Why party on a boring $300M yacht? Billionaires and VIPs can host gala events deep underwater in this insane 115-feet electric submarine that can come with a restaurant, a gym, luxury bathrooms, and exterior lights that illuminate surrounding aquatic life.
The future of utmost luxury on the seas is slowly moving underwater. With concepts like the Under Water Entertainment Platform (UWEP), U-Boat Worx has given us several reasons to look forward to aging. According to the company, the self-sufficient submarine is 115 ft in length, which is more than qualifying to dub it a super-submarine that can dive to depths of up to 656 feet. Simply put, it will feel like a stunning superyacht, only it's not going to stay underwater and help you walk amongst rich marine life. The roomy submarine can comfortably take 120 passengers on the trip of a lifetime. Windows in a submarine are your eyes to enjoy the marvels of life underwater, and in the case of UWEP, there are fourteen windows enveloping the submarine.




The concept considers every aspect of enjoyment for its passengers, so they also added exterior lights to make night-time dives captivating. Having said that, in a submarine, the interior space needs to be very well-planned for apparent reasons. Fortunately, UWEP offers 1,600 sq. ft. of floor space and several options that pump life into the idea of deep-sea entertainment. The submersible can be configured in many variations, keeping socializing at its core. From a 64-seat underwater restaurant for an oceanic dining experience to a sub-sea gym or casino, the possibilities with the customizable UWEP platform are endless.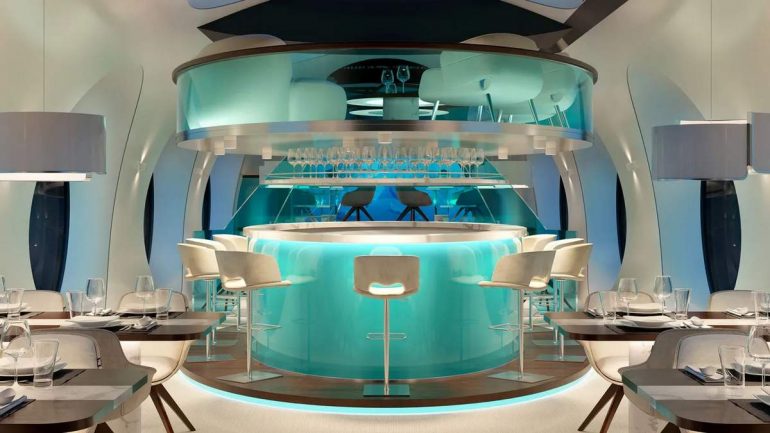 I can already picture billionaires hosting business conferences and celebrities avoiding paparazzi for intimate weddings and parties aboard the UWEP. Let's talk performance, as that aspect makes all the difference when one is expected to go 656 feet underwater. UWEP is a sea monster, albeit an artificial one that can run non-stop for 24 hours on battery power alone. As shared by Boat International, the submersible can be recharged and reprovisioned in a port or floating dock, where guests can also board the submarine via two access hatches.

Founder and CEO of U-Boat Worx, Bert Houtman, said, "The UWEP will shake up both the submarine and hospitality industry and lead the way in bespoke underwater events. We will present a stellar experience for not only the most discerning clientele but also a business opportunity that will benefit entrepreneurs and contribute to our understanding of the oceans," as per Superyacht Times. After making a life of pure joy on land, even in the skies, it is time humans explored the oceans beyond superyachts and enjoyed all its glory.

Submarines are certainly looking like the mean machine of the future as Austria-based Migaloo submarines also intend to build private yachts that will dive to 1,500 feet and cruise underwater at 20 knots. These $2 billion personal submarines will give tough competition to the megayacht floating above with lavish VIP suites, a helipad, and even an open deck swimming pool. Roy Heijdra, the marketing manager of U-Boat Worx stated, "Our goal as a company has always been to make the oceans more accessible for everyone. With the launch of our UWEP, we can truly say that U-Boat Worx provides your gateway to discovery."
[Via: BOAT International]
AMBUSH's Starbucks Collab Has All You Need for Summer: Coffee & Tequila
What will you be drinking this evening? Just coffee and tequila, and make it AMBUSH style.
After placing her own spin on Nike's models like the upcoming Air Adjust Force and Dunk High, Yoon Ahn now offers her own take on coffee, linking up with Starbucks Japan for a collab that'll have you buzzed this summer (either from the alcohol content or caffeine).
With the coffee giant's Japanese imprint, AMBUSH offers cold brew cocktails that are exactly how they sound: Starbucks' signature coffee topped off with a bit of liquid courage.
While I prefer my spirits without liquor and my coffee alcohol-free, quite a few are here for the whole boozy pick-me-up vibe, often partaking in combos like Irish coffee and spiked eggnog.
For those who enjoy kicking back with a buzzy cup of joe, you'll probably enjoy the AMBUSH x Starbucks coffee cocktails flavors, which are cold brew margarita and cold brew tequonic.
Tequila and margarita coffee definitely sounds like a chaotic combination. But, indeed, we'd have to trust that Yoon Ahn's fashion tastes are equally as good as her food and spirits palate.
As for those not riding the alcoholic coffee wave, the partnership has its cold brew free offering, too (that's all coffee and no alcohol).
If you find yourself in Japan this summer, you can test out the AMBUSH x Starbucks cold brew cocktails yourself at the Arriviamo bar at Tokyo's Starbucks Reserve in Nakameguro. Drinks start pouring in on May 27 and will be around till the end of August.
Doja Cat's 2022 Billboard Music Awards 'Fit: No Notes
All hail our red carpet queen, Doja Cat! The rapper has been quite on a sartorial roll, most recently attending the 2022 Billboard Music Awards in head-to-to Schiaparelli haute couture.
Styled by Brett Alan Nelson, the star donned look 21 from Schiaparelli's Spring 2022 couture collection, designed by Daniel Rosenbery. Nelson styled the bust-less bustier and bias-cut skirt with gold pasties from Agent Provocateur, a gilded touch that matched Doja's statement earrings: giant gold ears dripping in diamonds.
The cherry on top? Heels featuring articulated gold "toes" and a Saturn-shaped clutch, also by Schiaparelli.
The "You Right" singer didn't just sweep the red carpet — she also took home four Billboard awards, including Top R&B Artist.
1 / 2
Over the past year, Doja has established herself as formidable fashion force. In early April, she attended the Grammys in an ice-blue Versace gown, accessorized with a glass Heven x Coperni bag that quickly went viral, fueling a full-on craze for the fragile accessory.
Her Grammys 'fit wasn't a one-off success, though — remember when she wore Ottolinger at Coachella, and proclaimed that Issey Miyake is her favorite designer? It's clear that Doja's got good taste.
While I have to hand best-dressed to Ms. Planet Her, Megan Thee Stallion's custom Mugler gave Doja a run for her money. (I have no comment on Cara Delevingne's bizarre red carpet antics.)
Now, someone get Doja in touch with Demna.
Hey, You Know Your Levi's 501 Jeans Are Inside-Out? Precisely.
If you see some youngsters walking around with their Levi's worn outward, it's not some new hip trend (though it could easily lead to that outcome). Despite crazes like skants and folded-over Dickies, they're wearing the jeans correctly because that's the intention behind Levi's latest 501 jeans.
After Kid Cudi's stamp of approval and Vivienne Westwood's artsy rework on 501 jeans, Levi's brings back the vibes of its 2019 Beams collab, issuing a new rollout of "Inside-Out" 501 jeans.
As the name implies, Levi's vintage denim trousers look like they'd been turned outward. One pair touts the jean's usual light grey lining as its outside appearance. Meanwhile, another pair boasts the denim's signature dark wash on the surface with a light grey waistline and frayed seams — details usually concealed inside the garment.
Like NIGO's Human Made collab, Levi's latest "Inside-Out" 501 vintage jeans are crafted from selvedge denim, aka a denim aficionado's dream trousers celebrated for their utmost quality, distinctive cuff, and preferred fading over time.
Particularly, Levi's "Inside-Out" 501 jeans were designed using the reverse side of 1963 selvedge denim from Cone Mills White Oak, an OG denim plant based in North Carolina.
Denim like this takes time, folks — making it hard to produce, too — so it's no wonder Levi's "Inside-Out" 501 jeans will be limited with a price tag of 46,200 yen (approximately $357).
With the trousers' selvedge foundation, denim heads won't think twice about swiping their card for this exclusive investment. They'll surely be happy to know the Levi's "Inside Out" 501 jeans are dropping on 501 Day, May 20, at Levi's online and physical Harajuku and Osaka stores.