Judge says Gov. DeSantis' congressional map violates state constitution
'I am finding that the enacted map is unconstitutional under the Fair Districts amendment.'
A Florida judge said the congressional map signed by Gov. Ron DeSantis violates the state constitution.
Leon Circuit Judge Layne Smith will issue an order this week calling for alternative cartography submitted by lawsuit plaintiffs to govern the 2022 Midterms — at least in North Florida. That means the district represented now by U.S. Rep. Al Lawson, a Tallahassee Democrat, will be preserved.
"I am finding that the enacted map is unconstitutional under the Fair Districts amendment," Smith said from the bench.
But Smith acknowledged his order, once released, will likely be appealed by state officials immediately. An appellate court could issue a stay on the decision, and it's possible Smith's order will be fast-tracked to the Florida Supreme Court or U.S. Supreme Court for review.
The decision from a judge initially appointed by Republican Gov. Rick Scott struck a blow to DeSantis, who earlier this year vetoed a map approved by the Legislature.
DeSantis has argued the makeup of Lawson's district violates the equal protection clause of the U.S. Constitution because it was drawn in a way primarily motivated by race. After the Governor's veto, the Legislature met again in a Special Session and approved a map (P 0109) drawn by the Governor's staff. That one dismantles Lawson's district and spreads almost 370,000 Black voters into surrounding North Florida districts.
But Lawson's district was originally implemented by the Florida Supreme Court in 2015, and Smith said he's not prepared to say the high court erred in its ruling.
Smith said that map clearly diminishes the ability of North Florida's Black communities to control a congressional election. While the benchmark district represented by Lawson is 49% Black, the resulting North Florida districts in the DeSantis map have between 12% and 25% Black makeups.
"I do find persuasive the arguments that were made about the diminishment of African American votes," Smith said.
Smith wants a cleaned-up version of a map drafted by Harvard professor Stephen Ansolabehere and submitted for consideration Tuesday night. Plaintiffs in a lawsuit challenging the DeSantis map called for the courts to immediately issue an injunction against its implementation for the Midterms, but limited their ask to North Florida. That means other controversial cartography in Tampa Bay and Greater Orlando will likely stand.
The submitted map from Ansolabehere preserves most of DeSantis map, but borrows North Florida cartography from a fallback map (H 8015) passed by the Legislature during the regular Session. The Legislature tried to pass a compromise that addressed DeSantis' constitutional concerns while keeping a Duval County-only Black access seat. But lawmakers expressed a concern that courts would throw that out. A map that preserved a district analogous to Lawson's current jurisdiction was offered to courts in the event the primary map was rejected.
Smith made clear his decision is based on evidence as presented to date, and a full trial will unfold before any final ruling on the full map will be handed down.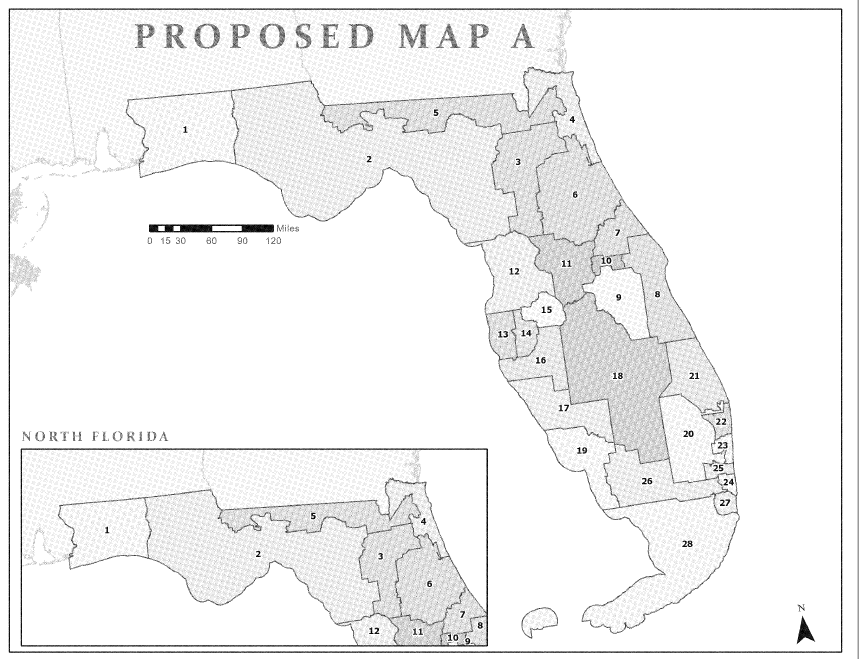 Post Views: 0
Netflix Adds Graphic Violence Warning Ahead of 'Stranger Things 4' Premiere After Texas Shooting
Netflix has added a content warning ahead of the fourth season of Stranger Things following the horrific shooting in Uvalde, Texas, that left 19 children dead along with two teachers.
The disclaimer that will appear during Friday's premiere will say that the show will contain violent content involving children in the first scene, according to The Hollywood Reporter.
"We filmed this season of Stranger Things a year ago," the warning reads. "But given the recent tragic shooting at a school in Texas, viewers may find the opening scene of episode 1 distressing. We are deeply saddened by this unspeakable violence, and our hearts go out to every family mourning a loved one."
Netflix Puts Warning on 'Stranger Things' Season 4 After School Shooting https://t.co/xgZkQfvSqL

— The Hollywood Reporter (@THR) May 26, 2022
The description for the premiere episode will also include: "Warning: Contains graphic violence involving children."
The disclaimer will only be shown in the United States and not globally.
A Netflix spokesperson explained that the opening scene is "very graphic" and warranted the warning.
"We decided to add the card given the proximity of the premiere to this tragedy — and because the opening scene is very graphic," the spokesperson said.
The move comes after CBS pulled the FBI season finale that featured a student involved in a deadly robbery. Beyond television, other artists have adjusted their schedules in the wake of the shooting. "American Pie" singer Don McLean pulled out of singing at the upcoming NRA convention in Houston.
"In light of the recent events in Texas, I have decided it would be disrespectful and hurtful for me to perform for the NRA at their convention in Houston this week," McLean said.
"I'm sure all the folks planning to attend this event are shocked and sickened by these events as well. After all, we are all Americans. I share the sorrow for this terrible, cruel loss with the rest of the nation," he concluded.
Musicians Lee Greenwood and Larry Gatlin are still scheduled to perform at the convention as well as Danielle Peck
FACT CHECK: Jimmy Kimmel Falsely Claims 'There was an Armed Guard in Uvalde'
CLAIM: During Wednesday's opening dialogue, Jimmy Kimmel said, "There was an armed guard in Uvalde."
MOSTLY FALSE: On Wednesday authorities tentatively indicated there was an officer at the school, but on Thursday they said there was not.
Kimmel did not wait for the facts.
Breitbart News noted that the Texas Department of Public Safety (DPS) reported there was no armed school resource officer at the Uvalde school when a gunman entered.
DPS Regional Director Victor Escalon indicated that at 11:28 a.m., after the gunman crashed a pickup truck near the school and began his attack, the gunman climbed a four-foot-high chain link fence around the school and fired at the school as he approached. He also fired at two eyewitnesses at a funeral home nearby. By 11:40 a.m., he had approached the west side of the school. He "was not confronted by anybody" outside the school, armed or otherwise.
Escalon stressed that was no school resource officer on campus, and that the first report came to police at 11:30 a.m.
During his Wednesday night dialogue, Jimmy Kimmel joined the chorus of gun controllers who rejected the role of a good guy with gun based on the false belief that there had been an armed guard at Uvalde.
Kimmel said, "If your solution to children being massacred is armed guards, you haven't been paying attention to what's going on." He then noted that an armed guard was present in Buffalo and mentioned there was an officer in Parkland, although he did not mention the Parkland school officer did not go into the building to confront the gunman.
Then Kimmel said, "There was an armed guard in Uvalde."
Watch below: 
The Texas DPS tells a different story. There was no armed guard at Uvalde.
Kimmel did not wait for the facts.
AWR Hawkins is an award-winning Second Amendment columnist for Breitbart News and the writer/curator of Down Range with AWR Hawkins, a weekly newsletter focused on all things Second Amendment, also for Breitbart News. He is the political analyst for Armed American Radio and a Turning Point USA Ambassador. Follow him on Instagram: @awr_hawkins. Reach him at awrhawkins@breitbart.com. You can sign up to get Down Range at breitbart.com/downrange.
Leftist Journalist Julia Ioffe: 'What If You Could Perform an Abortion with an AR-15?'
Julia Ioffe, founding partner and Washington correspondent for Puck News, found herself in hot water on Wednesday night when she tweeted that 2nd Amendment advocates would suddenly be for banning AR-15 rifles if they were tools used in abortions.
"What if you could perform an abortion with an AR-15? What if the 19 kids killed [in] Uvalde weren't children, but fetuses?" Ioffe said in her now-deleted tweet.
Twitter users immediately pounced on Ioffe for not only using the horrible tragedy in Texas as a vehicle to plug abortion but also for suggesting that 19 children would suddenly have no inherent value to her if they were killed in the womb – a mad dash of irony that seemed to escape her.
"You'd defend it?" responded National Journalism Center program director Becket Adams. "What even is the purpose of tweets like hers? What good does it serve? Nothing of value has been done on this website in the past 72 hours, and it's only getting worse."
"Don't kill kids at school and don't kill kids in the womb — in fact don't kill them anywhere — is my baseline. Is it yours?" tweeted Washington Examiner reporter Jerry Dunleavy.
"Where have I seen this before? Oh, right, on a pro-life t-shirt," tweeted National Review Washington correspondent John McCormack.
Though Ioffe deleted the tweet, she issued no apology. As noted by Fox News, her statement echoes her flub from 2021 in which she made an inadvertent pro-life argument while attacking the Texas Heartbeat Act.
"If you are anti-choice and you want to make sure women carry every pregnancy to term, why not make the person who created the pregnancy contribute? Why not have men pay child support to the women they impregnate? Surely, it is not the woman's responsibility alone?" she tweeted.
Indeed, hardcore leftists and opposers of gun rights have (quite oddly) been citing abortion as some trump card against pro-lifers in the wake of the Texas massacre.
"YOU CAN KILL CHILDREN IN SCHOOL IN TEXAS BUT CAN'T GET AN ABORTION," tweeted Rob Reiner's daughter, Romy Reiner, which the director himself retweeted.
YOU CAN KILL CHILDREN IN SCHOOL IN TEXAS BUT CAN'T GET AN ABORTION.

— romy (@romyreiner) May 24, 2022