To avoid being seized, sanctioned oligarch Suleiman Kerimov spent $500,000 in fuel and raced his $325 million megayacht for 18 days across the Pacific Ocean. Ironically, the billionaire's luck ran out when the Amadea was captured the moment it docked in Fiji for refueling.
We watched the superyachts of Russian tycoons pass from one country to another like a tennis ball in Wimbledon. The $325 million Amadea megayacht especially has seen so much action that its movements in the last few months could be the premise of a Hollywood blockbuster. From treading choppy waters as seen in spy movies to getting embroiled in a high-octane court controversy, the Amadea has witnessed more than what's natural for a luxury vessel. Call her what you may, a hero, villain, or escapee; the beautiful Amadea yacht has been ridiculously opulent and decadent. As revealed by a Forbes report, this includes a pretty hefty price tag on its fleeing attempt.


If a business class ticket makes you gasp, the Amadea will leave you in absolute shock. According to Bloomberg the 384 feet long luxury vessel needs an upward of $500,000 for just a re-fuel. Denis Suka, a yachting influencer known as the Yacht Mogul stated, the Cayman Islands-flagged ship can sail about 10,000 nautical miles on a full tank — enough for its whirlwind voyage from the Caribbean to Fiji, as per G Captain. The fact that billionaire Suleiman Kerimov embarked Amadea on an 18-day journey from the Caribbean to Fiji, knowing perfectly well he was running up a fuel bill north of $500,000 (a full tank would cost its Russian owner about $530,000 at current diesel prices in Europe) gives us a good understanding of his wealth and love for the ship.
Unfortunately for the Russian tycoon, all his attempts to save his beloved yacht from seizure, including the pricey $500k re-fuel to race the boat across the Pacific, utterly failed. While we are on the subject of Kerimov's earnest attempts, let's take a detailed look at the journey of Amadea in these past few weeks:
The Amadea tried to avoid seizure at top speed:
French designer Francois Zuretti gave the interiors of the spectacular Amadea its refreshing appeal with hand-painted Michelangelo clouds on the ceiling, an imposing double-height atrium, and a party space with 20,000 watts of built-in speakers, lights, and lasers. Sanctioned Russian billionaire, Suleiman Kerimov, knew better than to leave his beloved 347-foot ship free to be captured.
No wonder Kerimov aimed to avoid seizure at all costs and had Amadea making a trans-Pacific run ailing towards Australia. The tedious 18-day journey began from Mexico and was received in Nadi, Fiji.
Amadea superyacht comes under the steely grasp of Fiji officials:
The Fiji police captured Kerimov's prized possession after it arrived at the Pacific island nation without customs clearance. This resulted in the onboard crew being detained and interrogated, including the ship's captain. The U.S. embassy had been closely following the movements of Amadea and cooperated with Fijian authorities on the matter.
Confusion over ownership of the luxurious Amadea megayacht ensues:
As determined as the U.S. government was to seize the lavish Amadea, the lawyers of the sanctioned oligarch Suleiman Kerimov were to obstruct that from happening. To deter the capture of the stunning $325 million Lürssen-built megayacht, its registered owner, Millemarin Investments, named Eduard Khudainatov as the owner.
Until ownership was proven to the sanctioned tycoon Kerimov, Amadea couldn't be seized. Nonetheless, Amadea was barred from leaving Fiji's waters under a restraining order granted by the country's high court in Suva. Fiji's director of public prosecutions, Christopher Pryde, applied to the High Court to prevent Kerimov's 347-footer from leaving Fiji.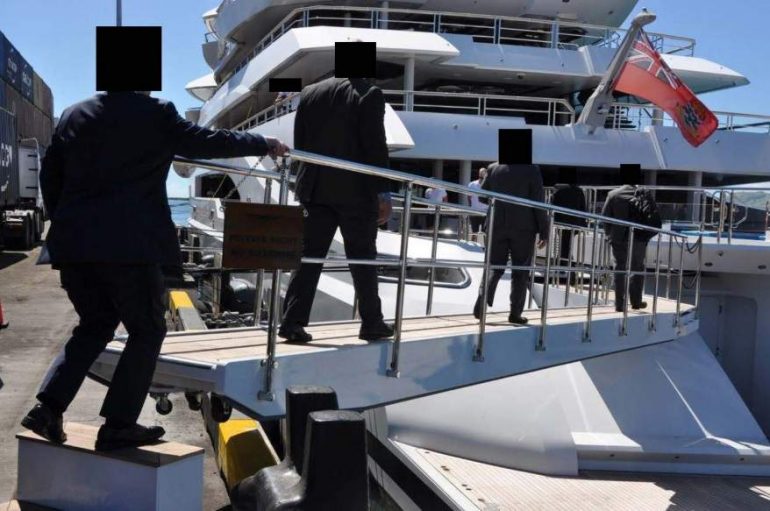 Amadea's seizure saga lingers as the Fijian court pauses its U.S. confiscation:
After all the action on the high seas, retraining orders, questioning, and ownership confusion, Fiji's High Court finally granted an order to register a U.S. seizure warrant, only to pause it later. According to Aljazeera, the case concerning the yacht is scheduled to return to court, and the U.S. warrant remains officially registered with the Fiji courts. With the court granting an interim stay on the execution of the warrant, the yacht is restrained from leaving the Fiji waters until further notice. A spokesperson said, "It is in Fiji police custody at this point."
For one oligarch the long and expensive journey paid off –
What almost every sanctioned oligarch tried and failed at, Russian steel billionaire Alexei Mordashov did well. The tycoon managed to descend one of the world's biggest superyachts, the Nord yacht, home to the port of Vladivostok. He improved his hide-and-seek superyachts game, where oligarchs race luxury vessels across oceans to locales that aren't as likely to impose or enforce sanctions. After losing his $71 million, 215-foot superyacht Lady M and a Sardinian property worth $116 million, Mordashov whisked his 464 feet long megayacht, Nord, to the port of Vladivostok right under the nose of authorities.
As per G Captain, the Nord ship has logged about 6,701 nautical miles in the period — mostly on its voyage to get back home to Russia's Vladivostok port in March. A full tank for its Russia trip would cost about $465,000. The rag-to-riches oligarch managed this feat by possibly turning off the transponders, making leaving European resort towns easier. Otherwise, it wouldn't have been possible to cruise the massive $500 million Lürssen behemoth.
Billionaire Public Storage Heiress Asks $127.5 Million for Paradise Cove Estate
Plus Icon
Seller Tammy Hughes Gustavson
Plus Icon
Location Paradise Cove, Malibu, Calif.
Plus Icon
Price $127.5 million
View More
Plus Icon
Specs 10,698 square feet, 8 bedrooms, 12 bathrooms
Plus Icon
Lot Size 3.6 acres
A sprawling compound owned by Public Storage heiress Tammy Hughes Gustavson has hit the market in Malibu. Nestled on a picturesque 3.6-acre blufftop parcel directly overlooking the Paradise Cove beach, and offering more than 200 feet of ocean frontage, the place is asking a substantial $127.5 million, as was first reported by The Wall Street Journal.
Records show the estate was previously owned by Gustavson's late father B. Wayne Hughes, a lifetime trustee of USC who co-founded Public Storage in 1972 and died in August 2021 at age 87. Hughes paid just over $20 million back in 2003 for property, which is showcased by a nearly 11,000-square-foot main house boasting eight bedrooms and 12 baths, plus two guesthouses — all offering sweeping coastline and ocean views via walls of glass and expansive terraces.
The spread rests directly south of two neighboring parcels owned by tech billionaire Jan Koum. The WhatsApp co-founder paid $100 million for NBCUniversal vice chairman Ron Meyer in 2019, and subsequently doled out $87 million to acquire "Real Housewives of Beverly Hills" star Diana Jenkins' funicular-equipped compound right next door.
Gustavson's primary residence remains in Lexington, Kentucky, where she owns Spendthrift Farm, the racehorse-breeding ranch that produced 2017 Preakness Stakes winner Cloud Computing. She currently serves on the self-storage company's board and is a major shareholder; per the Bloomberg Billionaires Index, her net worth is estimated at around $8 billion.
As for her Malibu residence, the Mediterranean-style stucco and terracotta-roof structure is hidden away behind a lengthy gated driveway and was built in 2001. A formal foyer flows into the two-story main house, which is highlighted by a formal living room sporting a floor-to-ceiling fireplace, built-in bookshelves and two sets of French doors opening to the outdoors, along with a dining room and movie theater.
A gourmet kitchen equipped with a wraparound island and high-end stainless appliances connects to a breakfast nook that spills out to a covered al fresco dining area. Upstairs, four ensuite bedrooms include a sumptuous master retreat sporting a fireplace, custom walk-in closets and a private terrace, as well as a luxe bath.
In addition to the main home, there's also the aforementioned pair of guesthouses — one of which rests atop a three-car garage, and comes with two ensuite bedrooms and a kitchenette, and another that's being used as a gym/yoga studio. Separate staff quarters with a kitchen can be found just off the garage, with the grounds also hosting a tennis court and winding pathway leading down to the beach.
The listing is held by Jade Mills of Coldwell Banker Realty.
Looking for some Dirt?
Get the latest scoop directly in your inbox.
After Buying in Texas, Emma Stone Lists Clifftop Malibu Home
Plus Icon
Seller Emma Stone
Plus Icon
Location Malibu, Calif.
Plus Icon
Price $4.295 million
View More
Plus Icon
Specs 1,764 square feet, 3 bedrooms, 2 bathrooms
Plus Icon
Lot Size 3.15 acres
Now that she's presumably moved into her elegant new Austin home, Emma Stone no longer needs her previous main residence. Newly available for sale and asking just under $4.3 million, that midcentury ranch-style house sits atop a bluff in the Malibu hills, where it's blessed with spectacular ocean views from a birds-eye perch directly above Las Tunas Beach.
Stone picked the Malibu property up in 2018, paying about $3.3 million. Originally built in 1958, the home had been renovated just prior to the "Cruella" and "La La Land" star's purchase by its former owners, who had the picturesque property featured in the Cottages & Gardens magazines.
Those former owners also remodeled the kitchen, adding high-end stainless appliances and stone countertops, and gave the entire house a thorough whitewashing, with creamy white walls and ceilings throughout.
Today, the property looks much the same as it did when Stone bought the place, save for some minor decor changes. The most dramatic alteration Stone made appears to be the front door, which has been painted a deeper shade of blue. There's still a large brick terrace that overlooks the ocean, and the property is surrounded by native eucalyptus and yucca trees, plus colorful patches of blue agave and jade.
The house is on the small side, particularly as A-list celebrity residences go, with three bedrooms and two baths in just under 1,800 square feet. Still, the mostly open floorplan is airy and spacious. It's also flooded with natural light, thanks to floor-to-ceiling windows and multiple skylights throughout. The two guest bedrooms share a single full bathroom, while the ocean-view primary bedroom has a smaller bathroom all to itself. Eric Lavey of Sotheby's International Realty holds the listing.
In addition to her new Texas mansion and the for-sale Malibu house, Stone also maintains a posh New York City apartment and a relatively humble bungalow in L.A.'s Westwood neighborhood, the latter of which has long been occupied by her mother.
Note: while tax records and the MLS show the house measures in at under 1,800 square feet, the floorplans reflect slightly over 2,000 square feet of living space. We're guessing that discrepancy might be due to the two-car attached garage, which has been quasi-converted into a game room/office area/recreation space.
Looking for some Dirt?
Get the latest scoop directly in your inbox.
The 'Midnight Navy' Air Jordan 4 Debuts This Fall
Continuing to look ahead to Jordan Brand's Fall/Winter plans, zSneakerheadz reports that a new colorway of the Air Jordan 4 will hit retail later this year.
Being delivered is a "Midnight Navy" colorway of the Jordan 4, which will take on OG "Fire Red" blocking, but with navy hits in place of red. While images of the shoe have not yet surfaced, the provided mock-up is said to be close to what's expected to launch.
Release dates are generally fluid these days, but pencil these in for an Oct. 1 drop at $210. Keep an eye out for images and new information here in the months ahead.
Air Jordan 4 Retro "Midnight Navy"
Release Date: 10/01/22
Color: White/Midnight Navy-Light Smoke Grey-Fire Red
Style #: DH6927-140
Price: $210