Gonzaga Suspends Legendary Alum John Stockton's Season Tickets over Mask Refusal
Former NBA star John Stockton, Gonzaga University's most famous alumni, has had his season tickets revoked by the school because he won't wear a mask at home games.
The famed Utah Jazz point guard recently told the Spokane, Washington, Spokesman-Review that the school canceled his season tickets because he refused a demand that he wear a mask because, as a prominent spectator, his mask refusal is conspicuous.
#Gonzaga has suspended the season tickets of its most prominent alum, John Stockton, for failing to comply with the school's mask mandate.

What's next for Stockton and his alma mater?

"I'm sure we'll get through it, but it's not without some conflict."https://t.co/4l5ZI03Cdl pic.twitter.com/8BsjBbc5Au

— Theo Lawson (@TheoLawson_SR) January 23, 2022
"Basically, it came down to, they were asking me to wear a mask to the games and being a public figure, someone a little bit more visible, I stuck out in the crowd a little bit," Stockton said. "And therefore, they received complaints and felt like from whatever the higher-ups – those weren't discussed, but from whatever it was higher up – they were going to have to either ask me to wear a mask or they were going to suspend my tickets."
Stockton reported that Gonzaga Athletic Director Chris Standiford let him know of the school's decision to bar him from the stadium. Still, he also noted that several officials had asked him to wear a mask.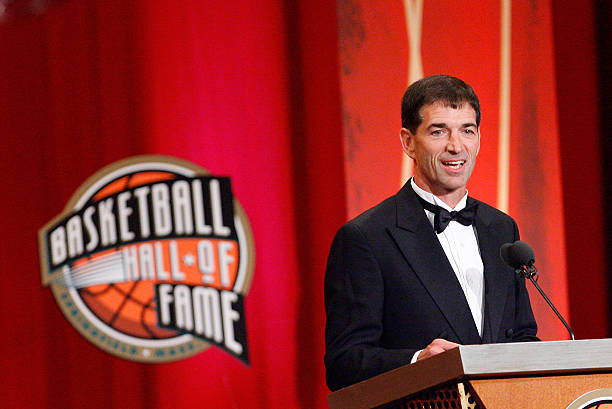 SPRINGFIELD, MA – SEPTEMBER 11: John Stockton is inducted into the Naismith Memorial Basketball Hall of Fame during an induction ceremony on September 11, 2009, in Springfield, Massachusetts. (Photo by Jim Rogash/Getty Images)
Standiford would not comment on the situation with Stockton but did say that the athletics department is only adhering to rules set forth by the school and the state. Standiford also cited the closing of concessions as an example of the school's efforts at COVID mitigation.
Gonzaga President Thayne McCulloh also noted that masks are required, telling the paper, "it is imperative that we commit to wearing face coverings while in indoor, congregate settings. Masks are required in all classrooms, labs, and common areas such as offices, study lounges, hallways, library spaces, and places where others are present (with obvious exceptions, such as dining and certain fitness center activities). Students, ticket-holders, and all those attending basketball games at McCarthey Center and sporting events indoors are required to wear masks at all times."
Stockton did say that while the masking and vaccination demands have put stress on his relationship with the school, he does not consider it a deal-breaker at this time.
The famed NBA player is known as a vaccine skeptic. Even in the Spokesman-Review interview, he claimed that more than 100 pro athletes had died immediately after being vaccinated. He also said that tens of thousands have died from taking the COVID vaccine.
The CDC claims it has received reports of 11,468 deaths of Americans in the weeks following vaccination. However, the agency has not determined if any of those deaths are related to the various coronavirus vaccines themselves or are from other causes.
Follow Warner Todd Huston on Facebook at: facebook.com/Warner.Todd.Huston.
Doug Mastriano Wins Pennsylvania Republican Gubernatorial Primary
Pennsylvania state Sen. Doug Mastriano (R), endorsed by former President Donald Trump days ago, has won the state's Republican gubernatorial primary and will face Democrat Josh Shapiro in the general election.
Mastriano, who billed himself as an anti-establishment outsider who would investigate Pennsylvania's 2020 election results, took a large lead with election day voters and swept some counties with more than 50 percent of the vote.
Trump jumped in to back Mastriano last week while the candidate led multiple polls, some by double digits ahead of former Rep. Lou Barletta (R-PA).
BREAKING: Douglas Mastriano wins Republican nomination for governor in Pennsylvania primary election. #APRaceCall at 9:51 p.m. EDT. https://t.co/2nlgpji7ac

— AP Politics (@AP_Politics) May 18, 2022
Barletta had called on other Republican candidates Bill McSwain and Dave White to drop out of the race and endorse his candidacy to help consolidate support.
Mastriano faces Shapiro in the general election which takes place on November 8.
John Binder is a reporter for Breitbart News. Email him at jbinder@breitbart.com. Follow him on Twitter here. 
Chuck Edwards Unseats Madison Cawthorn in North Carolina's 11 District
North Carolina State Sen. Chuck Edwards (R) unseated Rep. Madison Cawthorn (R-NC) in the state's 11th congressional district primary.
Dave Wasserman, the House editor of the Cook Political Report, reported that Cawthorn lost his renomination to state Sen. Edwards.
I've seen enough: Rep. Madison Cawthorn (R) has lost renomination to state Sen. Chuck Edwards (R) in the #NC11 GOP primary.

— Dave Wasserman (@Redistrict) May 18, 2022
Cawthorn faced increasing attacks from the left and establishment media outlets over many issues, including:
That's in part because of a striking pattern of unusual behavior: speeding without a valid driver's license; taking a firearm through security at an airport; wearing lingerie in photos; appearing in a video in which a staffer pantomimes a grab for his groin; gyrating naked on top of another man in bed; accusing unnamed lawmakers of inhaling cocaine and inviting him to an orgy; promoting a cryptocurrency in ways that prompted critics to claim he engaged in insider trading; and calling Ukrainian President Volodymyr Zelenskyy "a thug."
"I've really never seen the swamp launch such a coordinated attack against any individual in politics except for Donald Trump," Cawthorn said in reaction to the attacks against him.
Former Texas Gov. and Trump Energy Secretary Rick Perry endorsed Edwards during the 11th congressional district primary:
Gov. Rick Perry knows a true conservative when he sees one. So proud to have received this surprise endorsement!#ncpol #wncpol #NC11 pic.twitter.com/2vk4gqgqva

— Chuck Edwards (@ChuckEdwards4NC) May 14, 2022
Sean Moran is a congressional reporter for Breitbart News. Follow him on Twitter @SeanMoran3.
John Fetterman Wins Pennsylvania Democrat Senate Primary
Pennsylvania Lt. Gov. John Fetterman is now the projected winner in the state's Democrat primary for the U.S. Senate seat.
"John Fetterman wins Democratic nomination for U.S. Senate in Pennsylvania primary election," the Associated Press declared on Tuesday.
BREAKING: John Fetterman wins Democratic nomination for U.S. Senate in Pennsylvania primary election. #APRaceCall at 8:54 p.m. EDT. https://t.co/2nlgpji7ac

— AP Politics (@AP_Politics) May 18, 2022
I've seen enough: Lt. Gov. John Fetterman (D) defeats Rep. Conor Lamb (D) in the #PASEN Dem primary.

— Dave Wasserman (@Redistrict) May 18, 2022
PA — THANK YOU FOR CHOOSING ME AS YOUR DEMOCRATIC NOMINEE FOR U.S. SENATE IN PENNSYLVANIA!!!!!!!! 😭😭

I'm *so* deeply honored. pic.twitter.com/6sa7bC5Vrw

— John Fetterman (@JohnFetterman) May 18, 2022
Fetterman's victory in the primary comes after he suffered a stroke and underwent treatment at Lancaster hospital well into election day.
"I hadn't been feeling well, but was so focused on the campaign that I ignored the signs and just kept going. On Friday it finally caught up with me," Fetterman said on Sunday. "I had a stroke that was caused by a clot from my heart being in an A-fib rhythm for too long."
On Friday, I wasn't feeling well, so I went to the hospital to get checked out.

I didn't want to go – I didn't think I had to – but @giselefetterman insisted, and as usual, she was right.

The good news is I'm feeling much better + I'm well on my way to a full recovery. pic.twitter.com/WQ5X6QgQen

— John Fetterman (@JohnFetterman) May 15, 2022
Doctors said that Fetterman did not suffer from any cognitive injuries as a result of the stroke. He credited his wife for having him visit the hospital early.
"Fortunately, Gisele spotted the symptoms and got me to the hospital within minutes," Fetterman said. "The amazing doctors here were able to quickly and completely remove the clot, reversing the stroke, they got my heart under control as well. It's a good reminder to listen to your body and be aware of the signs."
John Fetterman has taken a radical position on abortion, referring to the unfettered practice as a "sacred" act.
"Let's be clear: The right to an abortion is sacred. Democrats have to act quickly – get rid of the filibuster to pass the Women's Health Protection Act + finally codify Roe into law. We cannot afford to wait," he tweeted this month. 
Let's be clear: The right to an abortion is sacred.

Democrats have to act quickly – get rid of the filibuster to pass the Women's Health Protection Act + finally codify Roe into law.

We cannot afford to wait.

— John Fetterman (@JohnFetterman) May 3, 2022