Activating 5G towers could KILL people who took COVID-19 vaccines, analysts warn
(Natural News)
Telecommunications megacorporations are poised to launch their "upgraded" 5G networks in the United States this January. This is despite the fact that there is plenty of evidence that such a rollout would lead to catastrophe and deaths, especially among Americans who are fully vaccinated against the Wuhan coronavirus (COVID-19).
Sean, the host of SGT Report's online show, pointed out that there is evidence of 5G towers emitting some kind of electromagnetic waves that directly attack people's bodies. As evidence, he provided a video released to the public by La Quinta Columna.
La Quinta Columna, a Spanish-language media outlet, is notable for being one of the first independent outlets to report that the COVID-19 vaccines contain the toxic substance graphene oxide. (Related: Study: 5G exposure a "significant factor" in higher covid cases, deaths.)
The Spanish media outlet played a short clip on one of its recent livestreams of a man who parks his bike right next to a 5G tower for a few seconds and then suddenly collapsing out of nowhere. Ricardo Delgado Martin, founder of La Quinta Columna and host of the media outlet's show, pointed out that the CCTV camera that captured the man's sudden collapse experienced a glitch in its video feed less than a second before the incident occurred.
Delgado speculates that this glitch is what triggered the man's collapse, and that it was caused by the 5G tower right next to him. Dr. Jose Luis Sevillano, a guest of Delgado, pointed out that this is clear evidence that the 5G towers emit some kind of pulse that directly affects people's health.
"This is the proof," said Luis, in Spanish. "Because it's no longer a matter of the guy falling over from something internal to him, but there's an external trigger that's caught on camera… That would explain why so many people are suddenly dropping dead here and there right now."
"It looks like a gunshot, but it's an electromagnetic pulse at the speed of light," said Delgado. "And it's being recorded by the camera as glitching, which is normal."
Sean does not believe the glitch was a coincidence. "The glitch in the video suggests some sort of, maybe electromagnetic pulse or energy weapon, may have been used in murdering that man."
COVID-19 vaccines could make people more susceptible to 5G
Delgado and Luis are concerned that people who are fully vaccinated against COVID-19 may be more susceptible to these electromagnetic pulse attacks because their bodies contain graphene oxide.
In July 2021, Spanish researchers from the University of Almeria discovered that almost all of the Pfizer vaccine is nothing but graphene oxide. This magnetic substance, when injected into a person's system, can cause deadly health complications including liver and kidney damage, spur on the formation of granulomas in the lungs and even trigger pre-programmed cell death.
"If the person [in the video] is vaccinated and has graphene already located in the heart and if, in addition, the person is exercising, well, it's impossible to be clearer," said Delgado, pointing out that the graphene most likely contributed to the man's demise.
"That was a pulse multiplied by graphene," remarked Luis. He added that he has received more reports from patients of heart palpitations "because of the density" in the 5G waves. Many of those patients have also reported feeling a strange sensation in the environment whenever they step outside.
"As if they were in a spaceship," said Luis. "Or that they went out to a planet that is not ours." He said this feeling is due to the electromagnetic fields in the air caused by nearby 5G towers.
This strange sensation when going outside is the least of their problems. Luis remarked that, if the electromagnetic fields ever pulsed like how it did in the video, it can create a disaster for people nearby.
"What works [in the body] stops doing so … you lose consciousness," said Luis. "Some people recover and say, 'What the heck happened to me?' But in some people, the process is so fast that they don't recover again. They end up in cardiorespiratory arrest, and it's over."
If the person who was hit by the 5G tower's electromagnetic pulse had graphene in his or her system because of the COVID-19 vaccine, that person becomes significantly less likely to shrug off an electromagnetic pulse.
Watch this episode of the SGT Report show as host Sean talks about the activation of 5G towers in the United States.
Watch more episodes from SGT Report by subscribing to its channel on Brighteon.com.
Learn more about the dangers of 5G by reading the latest articles at 5GAlert.com.
Sources include:
Gonzaga Suspends Legendary Alum John Stockton's Season Tickets over Mask Refusal
Former NBA star John Stockton, Gonzaga University's most famous alumni, has had his season tickets revoked by the school because he won't wear a mask at home games.
The famed Utah Jazz point guard recently told the Spokane, Washington, Spokesman-Review that the school canceled his season tickets because he refused a demand that he wear a mask because, as a prominent spectator, his mask refusal is conspicuous.
#Gonzaga has suspended the season tickets of its most prominent alum, John Stockton, for failing to comply with the school's mask mandate.

What's next for Stockton and his alma mater?

"I'm sure we'll get through it, but it's not without some conflict."https://t.co/4l5ZI03Cdl pic.twitter.com/8BsjBbc5Au

— Theo Lawson (@TheoLawson_SR) January 23, 2022
"Basically, it came down to, they were asking me to wear a mask to the games and being a public figure, someone a little bit more visible, I stuck out in the crowd a little bit," Stockton said. "And therefore, they received complaints and felt like from whatever the higher-ups – those weren't discussed, but from whatever it was higher up – they were going to have to either ask me to wear a mask or they were going to suspend my tickets."
Stockton reported that Gonzaga Athletic Director Chris Standiford let him know of the school's decision to bar him from the stadium. Still, he also noted that several officials had asked him to wear a mask.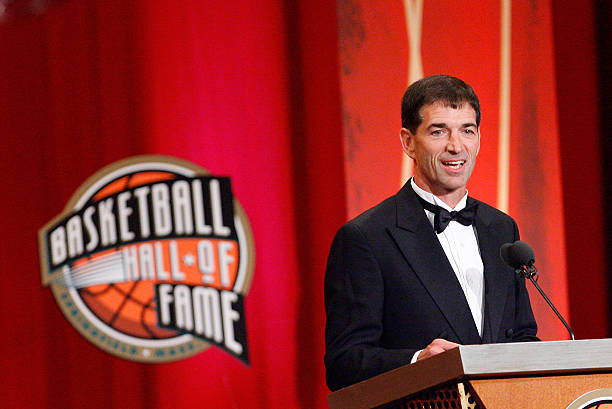 SPRINGFIELD, MA – SEPTEMBER 11: John Stockton is inducted into the Naismith Memorial Basketball Hall of Fame during an induction ceremony on September 11, 2009, in Springfield, Massachusetts. (Photo by Jim Rogash/Getty Images)
Standiford would not comment on the situation with Stockton but did say that the athletics department is only adhering to rules set forth by the school and the state. Standiford also cited the closing of concessions as an example of the school's efforts at COVID mitigation.
Gonzaga President Thayne McCulloh also noted that masks are required, telling the paper, "it is imperative that we commit to wearing face coverings while in indoor, congregate settings. Masks are required in all classrooms, labs, and common areas such as offices, study lounges, hallways, library spaces, and places where others are present (with obvious exceptions, such as dining and certain fitness center activities). Students, ticket-holders, and all those attending basketball games at McCarthey Center and sporting events indoors are required to wear masks at all times."
Stockton did say that while the masking and vaccination demands have put stress on his relationship with the school, he does not consider it a deal-breaker at this time.
The famed NBA player is known as a vaccine skeptic. Even in the Spokesman-Review interview, he claimed that more than 100 pro athletes had died immediately after being vaccinated. He also said that tens of thousands have died from taking the COVID vaccine.
The CDC claims it has received reports of 11,468 deaths of Americans in the weeks following vaccination. However, the agency has not determined if any of those deaths are related to the various coronavirus vaccines themselves or are from other causes.
Follow Warner Todd Huston on Facebook at: facebook.com/Warner.Todd.Huston.
Dr. Robert Malone Claims COVID Vaccines Can Permanently Damage Children's Brains, Hearts, Immune Systems
Dr. Robert Malone, inventor of modern mRNA vaccine technology, issued a stark warning to parents in America and across the world about vaccinating their children for COVID-19 during a powerful speech at the Defeat the Mandates Rally in Washington DC today.
Banned-yet-popular mRNA vaccine technology inventor Dr. Robert Malone issued a grave warning to American parents today who are considering vaccinating their children for COVID-19 during a powerful speech in front of thousands of protestors at the Defeat the Mandates Rally in Washington DC.
Malone warned that the controversial COVID-19 vaccine injections can cause permanent harm to American children, urging parents to get informed about the risks before making the decision for their child.
"As a parent, those that are parents or going to be parents, it is ultimately your responsibility to protect your children. If they're harmed by these genetic vaccines, you are the one who will have to take care of them. And you will carry the burden for the rest of your life and theirs. On average, between 1-in-2000 and 1-in-3000 children that receive these vaccines will be hospitalized in the short-term with vaccine-caused damage. Only the passage of time will we know what long-term damage may occur to these children," Dr. Malone said.
"The vaccines do not protect our children from becoming infected with Omicron. They do not prevent infected children from infecting others. In contrast, the pharmaceutical companies and the government are almost fully protected from any damages these products might cause them."
"If your child is damaged by these vaccines, you will be let alone with both your grief and the burden of care. These genetic vaccines can damage your children," Dr. Malone said.
"They may damage their brains, their heart, their immune system, and their ability to have children in the future. Many of these damages cannot be repaired," he continued. "So I beg you, please get informed about the possible risks. Your children may be damaged by these experimental products."
You can watch Dr. Malone's full speech here.
Are you getting vaccinated?
National File is committed to ensuring your voice can and will be heard. To keep your speech free, we are switching our commenting platform to Insticator. Don't worry! All you have to do is create a commenting account with Insticator. We will be transferring previous comments to our new site, and then you will be able to link your past comments to your new Insticator account. If you have any feedback or questions about your Insticator commenting account, please email them at: [email protected]
Minneapolis Restaurants File Lawsuit Against Democrat Mayor Jacob Frey's Vax Mandate
Numerous Minneapolis restaurants are suing Democrat Mayor Jacob Frey over the city's vaccine mandate that went into effect on Wednesday.
The mandate, issued on January 14, requires that "everyone entering an establishment that serves food or drink in Minneapolis must show proof of either being fully vaccinated against COVID-19 or having a negative PCR or antigen test taken within three days."
Seven establishments have filed a joint lawsuit against Frey's order, according to KMSP. The complaint was filed Thursday in Hennepin County Fourth Judicial Court.
The complaint, obtained by KMSP, states the order "is calculated and purposed to attempt to prod the general public toward vaccination."
The lawsuit later reads in part:
48. Minneapolis bars and restaurants are being used as pawns to further Mayor Frey's agenda of pushing for and convincing the public to get vaccinated. Whether the end being sought is noble, the scheme is forcing restaurants and bars to lose additional patrons and business that have already been reduced over the past two years and incur new costs and burdens to enforce the requirements of Emergency Regulation 2022—5.

49. These actions constitute misuse of mayoral power aimed to further at best long-term public health policy, and at minimum personal agenda item of Mayor Frey, and are certainly not the intent or purpose for which the emergency powers outlined in Minneapolis Code of Ordinances §§ 128.50 or 128.60 or Minn. Stat. 12.29.
One of the attorneys representing the plaintiffs, Francis Rondoni, spoke with KMSP regarding the lawsuit.
"Jacob Frey does not have the power to do what he did. You cannot just act by edict or fiat, as they say. There's a legislative process that has to occur and he bypassed that," Rondoni said. 
Rondoni made clear to the outlet that his clients are not against vaccinations, adding they want to be treated the same as other Minneapolis businesses. 
"To put bar owners in a situation where they are arguing with patrons about whether they can get in or not is also a safety issue," Rondoni stated. 
The plaintiffs include: 
Bright Red Group, LLC (d/b/a Smack Shack), 90's Minneapolis, LLC (d/b/a The Gay 90's), PJ. Hafiz Club Management, Inc. (d/b/a Sneaky Pete's), Urban entertainment, LLC (d/b/a Wild Greg's Saloon), Urban Forage, LLC (d/b/a Urban Forage), and MikLin Enterprises, Inc. (d/b/a Jimmy John's), Inc. (d/b/a Bunkers Music Bar 8t Grill)
Frey's Office sent a statement to KMSP:
Mayor Frey's approach is straightforward: keep our hospitals from being overwhelmed and keep our valuable small businesses open. That is precisely why he moved forward with this temporary and flexible approach in anticipation of the rising case numbers and hospitalizations. Doing nothing in the face of clear public health data was not an option.
"A hearing on a temporary restraining order is scheduled for Monday," KMSP reports.
The case is Bright Red Group, LLC (d/b/a Smack Shack) v. City of Minneapolis, No. 27-CV-22-867, in District Court of Hennepin County, Minnesota.