Ronald McDonald House to evict 4-year-old children with leukemia because they aren't "vaccinated" … father decries, "unimaginable cruelty"
(Natural News)
The Ronald McDonald House in Vancouver, Can., is poised to start evicting families that do not provide proof of Wuhan coronavirus (Covid-19) "vaccination" for the sick and dying children.
Austin Furgason, the father of a four-year-old child with leukemia who has been receiving treatment there since October, is one such parent who was recently told that unless his son gets jabbed with an abortion-tainted clot shot, the child will have to leave the facility.
Furgason shared a video on Twitter (watch below) of his exchange with the manager of the facility, who insists the child must get jabbed "to reduce the risk to the entire house."
The Ronald McDonald House in Canada will evict all tenants, adults and children over the age of five, who are not vaccinated by the end of January.

The father of a young boy with leukemia responds.

"This is some kind of crazy evil like I've never seen in my life." pic.twitter.com/MQaoegqSKo

— The Vigilant Fox (@VigilantFox) January 12, 2022
"This doesn't make sense," Furgason immediately responded, explaining that according to government officials, the shots do not prevent the spread of the Fauci Flu.
This is fully admitted by U.S. Centers for Disease Control and Prevention (CDC) head Rochelle Walensky, as well as Big Pharma and really everyone else involved in pushing the plandemic narrative.
The manager refused to listen, though.
Father of sick child says covid cult is "far more dangerous than covid"
This is when Furgason took to Facebook to blow the lid on the corrupt Ronald McDonald House, which no longer exists to "save lives" but rather seeks to end them with forced medical fascism.
"All tenants, adults and children over the age of 5 who are not vaccinated are out by the end of January," Furgason wrote. "How absolutely wicked and vile."
"The Covid cult is far more dangerous than Covid," he added. "If they will evict families with cancer, what won't they do?"
True North news obtained a copy of the letter that Furgason received from the Ronald McDonald House explaining that the new vaccine mandate will begin on January 17 and that "families already in the House / Family Room" will have until January 31 to either receive a "minimum one dose" or else be forcibly removed.
The letter instructs recipients to "visit our front desk to scan your BC vaccination passport, confirming proof of vaccination or provide the vaccination card for those under 12 years of age."
The new policy applies to "everyone five years and older who are working, staying, or visiting our facilities," meaning it includes the family members and friends of sick children.
Unless a family is able to prove that it was granted accommodation that "has been sought and has been explicitly approved and granted by RMH BC in writing," they are out of the Ronald McDonald House come the first of February. (Related: The Ronald McDonald House is tied to the McDonald's fast food chain, which poisons children and gives them cancer.)
The whole point of the Ronald McDonald House, by the way, is to help sick children and their families who live very far from hospitals receive specialized treatment. Soon, Furgason and other families like his will not only be kicked out but have nowhere else to go.
Meanwhile, the Ronald McDonald House Charities in British Columbia and Yukon have published a notice on their website explaining that "an abundance of sanitizer and kindness will help us ensure the safety of everyone at the House."
Fauci Flu fascism is the real virus that is spreading uncontrollably. To keep up with the latest, visit Fascism.news.
Sources for this article include:
Gonzaga Suspends Legendary Alum John Stockton's Season Tickets over Mask Refusal
Former NBA star John Stockton, Gonzaga University's most famous alumni, has had his season tickets revoked by the school because he won't wear a mask at home games.
The famed Utah Jazz point guard recently told the Spokane, Washington, Spokesman-Review that the school canceled his season tickets because he refused a demand that he wear a mask because, as a prominent spectator, his mask refusal is conspicuous.
#Gonzaga has suspended the season tickets of its most prominent alum, John Stockton, for failing to comply with the school's mask mandate.

What's next for Stockton and his alma mater?

"I'm sure we'll get through it, but it's not without some conflict."https://t.co/4l5ZI03Cdl pic.twitter.com/8BsjBbc5Au

— Theo Lawson (@TheoLawson_SR) January 23, 2022
"Basically, it came down to, they were asking me to wear a mask to the games and being a public figure, someone a little bit more visible, I stuck out in the crowd a little bit," Stockton said. "And therefore, they received complaints and felt like from whatever the higher-ups – those weren't discussed, but from whatever it was higher up – they were going to have to either ask me to wear a mask or they were going to suspend my tickets."
Stockton reported that Gonzaga Athletic Director Chris Standiford let him know of the school's decision to bar him from the stadium. Still, he also noted that several officials had asked him to wear a mask.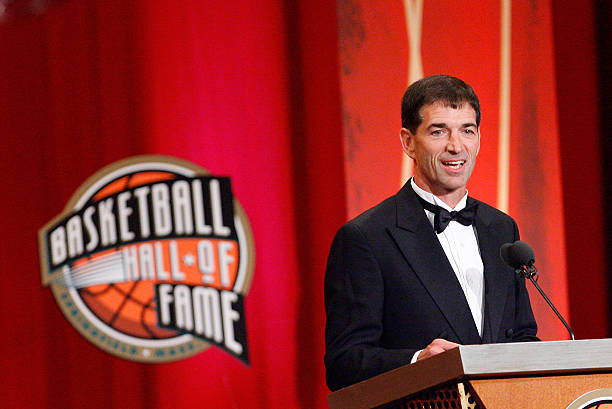 SPRINGFIELD, MA – SEPTEMBER 11: John Stockton is inducted into the Naismith Memorial Basketball Hall of Fame during an induction ceremony on September 11, 2009, in Springfield, Massachusetts. (Photo by Jim Rogash/Getty Images)
Standiford would not comment on the situation with Stockton but did say that the athletics department is only adhering to rules set forth by the school and the state. Standiford also cited the closing of concessions as an example of the school's efforts at COVID mitigation.
Gonzaga President Thayne McCulloh also noted that masks are required, telling the paper, "it is imperative that we commit to wearing face coverings while in indoor, congregate settings. Masks are required in all classrooms, labs, and common areas such as offices, study lounges, hallways, library spaces, and places where others are present (with obvious exceptions, such as dining and certain fitness center activities). Students, ticket-holders, and all those attending basketball games at McCarthey Center and sporting events indoors are required to wear masks at all times."
Stockton did say that while the masking and vaccination demands have put stress on his relationship with the school, he does not consider it a deal-breaker at this time.
The famed NBA player is known as a vaccine skeptic. Even in the Spokesman-Review interview, he claimed that more than 100 pro athletes had died immediately after being vaccinated. He also said that tens of thousands have died from taking the COVID vaccine.
The CDC claims it has received reports of 11,468 deaths of Americans in the weeks following vaccination. However, the agency has not determined if any of those deaths are related to the various coronavirus vaccines themselves or are from other causes.
Follow Warner Todd Huston on Facebook at: facebook.com/Warner.Todd.Huston.
Dr. Robert Malone Claims COVID Vaccines Can Permanently Damage Children's Brains, Hearts, Immune Systems
Dr. Robert Malone, inventor of modern mRNA vaccine technology, issued a stark warning to parents in America and across the world about vaccinating their children for COVID-19 during a powerful speech at the Defeat the Mandates Rally in Washington DC today.
Banned-yet-popular mRNA vaccine technology inventor Dr. Robert Malone issued a grave warning to American parents today who are considering vaccinating their children for COVID-19 during a powerful speech in front of thousands of protestors at the Defeat the Mandates Rally in Washington DC.
Malone warned that the controversial COVID-19 vaccine injections can cause permanent harm to American children, urging parents to get informed about the risks before making the decision for their child.
"As a parent, those that are parents or going to be parents, it is ultimately your responsibility to protect your children. If they're harmed by these genetic vaccines, you are the one who will have to take care of them. And you will carry the burden for the rest of your life and theirs. On average, between 1-in-2000 and 1-in-3000 children that receive these vaccines will be hospitalized in the short-term with vaccine-caused damage. Only the passage of time will we know what long-term damage may occur to these children," Dr. Malone said.
"The vaccines do not protect our children from becoming infected with Omicron. They do not prevent infected children from infecting others. In contrast, the pharmaceutical companies and the government are almost fully protected from any damages these products might cause them."
"If your child is damaged by these vaccines, you will be let alone with both your grief and the burden of care. These genetic vaccines can damage your children," Dr. Malone said.
"They may damage their brains, their heart, their immune system, and their ability to have children in the future. Many of these damages cannot be repaired," he continued. "So I beg you, please get informed about the possible risks. Your children may be damaged by these experimental products."
You can watch Dr. Malone's full speech here.
Are you getting vaccinated?
National File is committed to ensuring your voice can and will be heard. To keep your speech free, we are switching our commenting platform to Insticator. Don't worry! All you have to do is create a commenting account with Insticator. We will be transferring previous comments to our new site, and then you will be able to link your past comments to your new Insticator account. If you have any feedback or questions about your Insticator commenting account, please email them at: [email protected]
Minneapolis Restaurants File Lawsuit Against Democrat Mayor Jacob Frey's Vax Mandate
Numerous Minneapolis restaurants are suing Democrat Mayor Jacob Frey over the city's vaccine mandate that went into effect on Wednesday.
The mandate, issued on January 14, requires that "everyone entering an establishment that serves food or drink in Minneapolis must show proof of either being fully vaccinated against COVID-19 or having a negative PCR or antigen test taken within three days."
Seven establishments have filed a joint lawsuit against Frey's order, according to KMSP. The complaint was filed Thursday in Hennepin County Fourth Judicial Court.
The complaint, obtained by KMSP, states the order "is calculated and purposed to attempt to prod the general public toward vaccination."
The lawsuit later reads in part:
48. Minneapolis bars and restaurants are being used as pawns to further Mayor Frey's agenda of pushing for and convincing the public to get vaccinated. Whether the end being sought is noble, the scheme is forcing restaurants and bars to lose additional patrons and business that have already been reduced over the past two years and incur new costs and burdens to enforce the requirements of Emergency Regulation 2022—5.

49. These actions constitute misuse of mayoral power aimed to further at best long-term public health policy, and at minimum personal agenda item of Mayor Frey, and are certainly not the intent or purpose for which the emergency powers outlined in Minneapolis Code of Ordinances §§ 128.50 or 128.60 or Minn. Stat. 12.29.
One of the attorneys representing the plaintiffs, Francis Rondoni, spoke with KMSP regarding the lawsuit.
"Jacob Frey does not have the power to do what he did. You cannot just act by edict or fiat, as they say. There's a legislative process that has to occur and he bypassed that," Rondoni said. 
Rondoni made clear to the outlet that his clients are not against vaccinations, adding they want to be treated the same as other Minneapolis businesses. 
"To put bar owners in a situation where they are arguing with patrons about whether they can get in or not is also a safety issue," Rondoni stated. 
The plaintiffs include: 
Bright Red Group, LLC (d/b/a Smack Shack), 90's Minneapolis, LLC (d/b/a The Gay 90's), PJ. Hafiz Club Management, Inc. (d/b/a Sneaky Pete's), Urban entertainment, LLC (d/b/a Wild Greg's Saloon), Urban Forage, LLC (d/b/a Urban Forage), and MikLin Enterprises, Inc. (d/b/a Jimmy John's), Inc. (d/b/a Bunkers Music Bar 8t Grill)
Frey's Office sent a statement to KMSP:
Mayor Frey's approach is straightforward: keep our hospitals from being overwhelmed and keep our valuable small businesses open. That is precisely why he moved forward with this temporary and flexible approach in anticipation of the rising case numbers and hospitalizations. Doing nothing in the face of clear public health data was not an option.
"A hearing on a temporary restraining order is scheduled for Monday," KMSP reports.
The case is Bright Red Group, LLC (d/b/a Smack Shack) v. City of Minneapolis, No. 27-CV-22-867, in District Court of Hennepin County, Minnesota.