Ray Rodrigues explains why he wants redistricting maps passed by the Senate next week
Time is of the essence, the Senate Reapportionment Chair suggests.
Sen. Ray Rodrigues hopes Thursday is the day the Senate Reapportionment Committee settles on maps for Florida's now-28 congressional and 40 Senate districts. Florida Politics spoke to the Estero Republican — who is chairing the once-a-decade redistricting process in the Senate — before this critical meeting.
FP: What's the timeline for the Senate finishing its maps?
RR: The soonest that could go to the floor would be next week. And that's possible. I don't know if it's definitive, but it's a clear possibility if we get our maps out (at Thursday's meeting). And so the goal is to get maps out so that we're in position to get to the floor as quickly as possible.
FP: As a select committee will you vote on maps and amendments, per se?
RR: The select subcommittees wrapped up on Monday, and they didn't take formal votes, but they reached consensus as a committee on what maps to recommend that the full committee look at. All those maps were publicly noticed well before the workshop, discussed in the workshop, and had opportunity for public input and feedback. I'm going to accept their recommendations. So when those recommendations came to me, I looked at, 'What maps should I put into my bill to bring forward to the full committee?' I only looked at selections that came from each of the select subcommittees since I had consensus on that, and those maps involved in the process. And then as you saw, I filed each of the maps that I'm going to bring forward to the full committee for their consideration.
FP: What tipped the scales for you?
RR: Our counsel and staff looked at the two maps and the things we looked at were, right off the bat, both sets — congressional and Senate — were Tier 1 compliant in both maps. Then once we check those boxes — and yes, both maps are equally compliant with Tier 1 and will present no issues in the matter of potential litigation there — then the next step was, which of the maps are more compliant in Tier 2? And in addition to that, (we decided) which are the maps that most consistently apply the principles that the full committee directed staff to use and drew maps before the subcommittee process began. And the two maps that I put forward are the two maps that council and staff believe met that criteria.
FP: There was talk at the subcommittee about whether you have a majority minority district on the Senate map for Southeast Florida versus having an effective minority district. Why did you end up going with the decision that you did?
RR: The counsel I received from staff and on that is we meet the baseline metrics of the number of seats that are minority majority and effective minority districts with either map. One map would have had additional minority majority districts and fewer effective minority districts. If we had gone with the map that had the multiple minority majority districts, then we would have had an impact on Tier 2 metrics. So if you looked at the inset of those maps, that were publicly posted, the effective minority is clearly more visually compact in all the three metrics. Reock, Polsby-Popper and Convex Hull matched as significantly more compact across the board. And since it is an effective minority district, from what counsel has advised, there's no legal threat to going that way. And in fact, choosing the map you've chosen and being consistent and pushing forward with the map that is more compact across the board metrically, this is something that the court has indicated in previous litigation, as long as you're compliant with Tier 1, they find it acceptable and preferable actually — if you go back to the previous decisions courts had found outside of the Florida Supreme Court — that pursuing compact districts is a natural defense to the charge of gerrymandering. (We pursued) those compact districts — recognizing we have to balance not just the compactness, but keeping municipalities whole, keeping counties whole, in using geographic boundaries — because all those are spelled out as co-equal criteria. But doing those things puts us in the strongest position possible to defend them in the future.
FP: So being effective minority is the same in meeting those standards as being majority minority?
RR: What I would say is on the baseline map, because that's what the court looks at, have you diminished the number of majority minority districts and have you diminished the number of effective minority districts? The map we recommend, it does not diminish. We will have the same number of majority minority districts for both African-American seats and Hispanic seats with the map that we put forward.
FP: The League of Women Voters Florida in particular has questioned whether the Legislature is relying too much on what was defined as majority minority or effective minority based on the 2010 census, rather than the new Census. Are they incorrect in that?
RR: Our counsel believes our legal obligation is to avoid retrogression as measured off of your current baseline. That's why we feel like we're meeting the legal standards. If the League of Women Voters disagrees with that, then I'm sure that's a matter that will be litigated in the future. What we do with the 2020 Census cannot retrograde from what was done in the 2010 census. And we believe we've achieved that objective.
FP: You are not looking at the home addresses of sitting Senators?
RR: No home addresses and no party affiliation, or party data. On home addresses, that's not looked at at all. On the racial and the party affiliations and performance, that is looked at in the functional analysis that the court ordered to be done to determine if there's been retrogression of majority minority or effective minority districts. Those are the only districts that those criteria — partisan affiliation and performance and racial affiliation — have been used.
FP: So you have never looked at, say, the partisan performance of Southwest Florida's districts?
RR: I could not tell you what my district will be in party affiliation. I have no idea. I'm sure it's been written about somewhere. But I've tried to avoid that so that the process isn't tainted when it comes to me having to select a map.
FP: Have you had to dodge calls from national Republicans interested in this process?
RR: Actually, no. None of the national organizations or state organizations have reached out to me. I think that's a result of, right out of the gate, we laid down very clearly that we were going to be compliant with the Constitution, make sure we were compliant with the federal requirements and obey all state statutes. And everyone clearly understands because of the result in the litigation last time that you can't be drawing maps to either favor incumbents or to favor a political party over another. I'm hopeful that us coming out the gate very strongly, that what we're going to do is send that message for those calls not to come.
FP: Some memos went out about the ACLU attorney that presented maps and about Miami Herald coverage.
RR: The only memo I've sent out, I sent out a memo to let members know that he submitted maps and testified but didn't disclose his affiliation with an organization that clearly has an interest in the process based upon their litigation in other states. The Herald was mentioned in that because that's where I found out about that affiliation. But I've done no other memos dealing with the Herald or any other individuals because no one else has come forward and done that. And frankly, had the court not found (following the redistricting process 10 years ago) that there was a shadow organization and condemned the fact that individuals were testifying and submitting maps without disclosing their motives, there wouldn't have been a need to do that. But because the court did do that, I had to do that for anyone that did that.
FP: Online, some people hoping for a more aggressive congressional map are questioning if the House should even take up the Senate's map. Is there an obligation they do so?
RR: The way this has been done in the past is we will each put forth our own map, and then if the two maps don't agree, we go into conference. It's treated much like the budget, which is going to bring forth what we think is the right way to do this process. And if we agree with each other, then we both pass it out. If we don't, we'll be forced to go into conference and negotiate.
FP: What does conference look like when you are talking about lines as opposed to numbers in a budget?
RR: I've only seen conference once. That was a Special Session, I think during my sophomore (House) term. The Senate was chaired by then-Majority Leader Bill Galvano. The House conference committee was chaired by future speaker José Oliva. They only had one meeting and if you'll go back and look, that was a debacle. So I'm hopeful that our conference will look much more like the appropriations conference where we can reach an agreement and much less like the last time we had a redistricting conference where the two sides couldn't come to an agreement. Not only did that conference meeting not end well, the two chambers never did pass out what they agreed, and that's part of what led to the problems with the court.
FP: A lot was made at the beginning of the process that no one was going to look at prior maps and build this whole thing from scratch, but the Senate maps do feel very similar in ways to what is present now. Was that in any way intentional?
RR: The committee would be more qualified to answer that. The committee started with recognizing we have to draw and protect Tier 1 districts. And then we went through the natural lay of the land drawing districts and ended up with what we ended up with. My understanding from staff is that we did start with a blank slate. If we followed the suggestion of the Fair Districts Coalition — at least what they said publicly because they never did come and testify in committee — but what they said publicly to the press that was printed was that we ought to take their map and tweak it with population. I don't think we would have been filling our constitutional duty to do that. Our job is to go follow the directives in the fair district amendment and make sure that we're apportioning according to population and political and geographic boundaries. So that was the directive. We gave it to staff and then they brought back a map that did that.
FP: Why was it important to complete this early in the Session?
RR: I think it's always good when you have important legislation to get it done as early as possible. And in this case it's particularly important. Once we agree on a House and Senate map, it passes both chambers and a joint resolution then goes to the Attorney General for 15 days to review for any glaring legal deficiencies. Seeing none, it then goes to the Supreme Court for a 30-day review. At that point, anyone who wishes to challenge the maps that have been published for legal reasons, they have that opportunity with the court. It's a high-level review that the court does at the end. If they take the entire 30 days, when they get to the end, they're either going to approve it or they're going to say, 'There are problems in these areas, they need to be remediated, go address these issues and then bring us back your updated map.' It's important to complete that process as soon as possible because qualifying is scheduled to begin in the middle of June. The sooner we finish this in Session, the more time we have to get through the Attorney General review, the court review and to take any remediation steps, should the court order that.
FP: Is the House moving fast enough?
RR: I trust the leadership of the House and the leadership of the redistricting committee in the House. I'm sure that they're going to get their maps done as quickly as possible.
A transcript of this interview was edited for clarity.

Post Views:
0
Gonzaga Suspends Legendary Alum John Stockton's Season Tickets over Mask Refusal
Former NBA star John Stockton, Gonzaga University's most famous alumni, has had his season tickets revoked by the school because he won't wear a mask at home games.
The famed Utah Jazz point guard recently told the Spokane, Washington, Spokesman-Review that the school canceled his season tickets because he refused a demand that he wear a mask because, as a prominent spectator, his mask refusal is conspicuous.
#Gonzaga has suspended the season tickets of its most prominent alum, John Stockton, for failing to comply with the school's mask mandate.

What's next for Stockton and his alma mater?

"I'm sure we'll get through it, but it's not without some conflict."https://t.co/4l5ZI03Cdl pic.twitter.com/8BsjBbc5Au

— Theo Lawson (@TheoLawson_SR) January 23, 2022
"Basically, it came down to, they were asking me to wear a mask to the games and being a public figure, someone a little bit more visible, I stuck out in the crowd a little bit," Stockton said. "And therefore, they received complaints and felt like from whatever the higher-ups – those weren't discussed, but from whatever it was higher up – they were going to have to either ask me to wear a mask or they were going to suspend my tickets."
Stockton reported that Gonzaga Athletic Director Chris Standiford let him know of the school's decision to bar him from the stadium. Still, he also noted that several officials had asked him to wear a mask.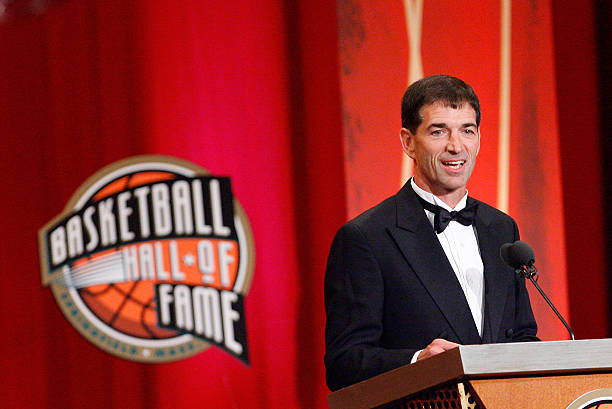 SPRINGFIELD, MA – SEPTEMBER 11: John Stockton is inducted into the Naismith Memorial Basketball Hall of Fame during an induction ceremony on September 11, 2009, in Springfield, Massachusetts. (Photo by Jim Rogash/Getty Images)
Standiford would not comment on the situation with Stockton but did say that the athletics department is only adhering to rules set forth by the school and the state. Standiford also cited the closing of concessions as an example of the school's efforts at COVID mitigation.
Gonzaga President Thayne McCulloh also noted that masks are required, telling the paper, "it is imperative that we commit to wearing face coverings while in indoor, congregate settings. Masks are required in all classrooms, labs, and common areas such as offices, study lounges, hallways, library spaces, and places where others are present (with obvious exceptions, such as dining and certain fitness center activities). Students, ticket-holders, and all those attending basketball games at McCarthey Center and sporting events indoors are required to wear masks at all times."
Stockton did say that while the masking and vaccination demands have put stress on his relationship with the school, he does not consider it a deal-breaker at this time.
The famed NBA player is known as a vaccine skeptic. Even in the Spokesman-Review interview, he claimed that more than 100 pro athletes had died immediately after being vaccinated. He also said that tens of thousands have died from taking the COVID vaccine.
The CDC claims it has received reports of 11,468 deaths of Americans in the weeks following vaccination. However, the agency has not determined if any of those deaths are related to the various coronavirus vaccines themselves or are from other causes.
Follow Warner Todd Huston on Facebook at: facebook.com/Warner.Todd.Huston.
Dr. Robert Malone Claims COVID Vaccines Can Permanently Damage Children's Brains, Hearts, Immune Systems
Dr. Robert Malone, inventor of modern mRNA vaccine technology, issued a stark warning to parents in America and across the world about vaccinating their children for COVID-19 during a powerful speech at the Defeat the Mandates Rally in Washington DC today.
Banned-yet-popular mRNA vaccine technology inventor Dr. Robert Malone issued a grave warning to American parents today who are considering vaccinating their children for COVID-19 during a powerful speech in front of thousands of protestors at the Defeat the Mandates Rally in Washington DC.
Malone warned that the controversial COVID-19 vaccine injections can cause permanent harm to American children, urging parents to get informed about the risks before making the decision for their child.
"As a parent, those that are parents or going to be parents, it is ultimately your responsibility to protect your children. If they're harmed by these genetic vaccines, you are the one who will have to take care of them. And you will carry the burden for the rest of your life and theirs. On average, between 1-in-2000 and 1-in-3000 children that receive these vaccines will be hospitalized in the short-term with vaccine-caused damage. Only the passage of time will we know what long-term damage may occur to these children," Dr. Malone said.
"The vaccines do not protect our children from becoming infected with Omicron. They do not prevent infected children from infecting others. In contrast, the pharmaceutical companies and the government are almost fully protected from any damages these products might cause them."
"If your child is damaged by these vaccines, you will be let alone with both your grief and the burden of care. These genetic vaccines can damage your children," Dr. Malone said.
"They may damage their brains, their heart, their immune system, and their ability to have children in the future. Many of these damages cannot be repaired," he continued. "So I beg you, please get informed about the possible risks. Your children may be damaged by these experimental products."
You can watch Dr. Malone's full speech here.
Are you getting vaccinated?
National File is committed to ensuring your voice can and will be heard. To keep your speech free, we are switching our commenting platform to Insticator. Don't worry! All you have to do is create a commenting account with Insticator. We will be transferring previous comments to our new site, and then you will be able to link your past comments to your new Insticator account. If you have any feedback or questions about your Insticator commenting account, please email them at: [email protected]
Minneapolis Restaurants File Lawsuit Against Democrat Mayor Jacob Frey's Vax Mandate
Numerous Minneapolis restaurants are suing Democrat Mayor Jacob Frey over the city's vaccine mandate that went into effect on Wednesday.
The mandate, issued on January 14, requires that "everyone entering an establishment that serves food or drink in Minneapolis must show proof of either being fully vaccinated against COVID-19 or having a negative PCR or antigen test taken within three days."
Seven establishments have filed a joint lawsuit against Frey's order, according to KMSP. The complaint was filed Thursday in Hennepin County Fourth Judicial Court.
The complaint, obtained by KMSP, states the order "is calculated and purposed to attempt to prod the general public toward vaccination."
The lawsuit later reads in part:
48. Minneapolis bars and restaurants are being used as pawns to further Mayor Frey's agenda of pushing for and convincing the public to get vaccinated. Whether the end being sought is noble, the scheme is forcing restaurants and bars to lose additional patrons and business that have already been reduced over the past two years and incur new costs and burdens to enforce the requirements of Emergency Regulation 2022—5.

49. These actions constitute misuse of mayoral power aimed to further at best long-term public health policy, and at minimum personal agenda item of Mayor Frey, and are certainly not the intent or purpose for which the emergency powers outlined in Minneapolis Code of Ordinances §§ 128.50 or 128.60 or Minn. Stat. 12.29.
One of the attorneys representing the plaintiffs, Francis Rondoni, spoke with KMSP regarding the lawsuit.
"Jacob Frey does not have the power to do what he did. You cannot just act by edict or fiat, as they say. There's a legislative process that has to occur and he bypassed that," Rondoni said. 
Rondoni made clear to the outlet that his clients are not against vaccinations, adding they want to be treated the same as other Minneapolis businesses. 
"To put bar owners in a situation where they are arguing with patrons about whether they can get in or not is also a safety issue," Rondoni stated. 
The plaintiffs include: 
Bright Red Group, LLC (d/b/a Smack Shack), 90's Minneapolis, LLC (d/b/a The Gay 90's), PJ. Hafiz Club Management, Inc. (d/b/a Sneaky Pete's), Urban entertainment, LLC (d/b/a Wild Greg's Saloon), Urban Forage, LLC (d/b/a Urban Forage), and MikLin Enterprises, Inc. (d/b/a Jimmy John's), Inc. (d/b/a Bunkers Music Bar 8t Grill)
Frey's Office sent a statement to KMSP:
Mayor Frey's approach is straightforward: keep our hospitals from being overwhelmed and keep our valuable small businesses open. That is precisely why he moved forward with this temporary and flexible approach in anticipation of the rising case numbers and hospitalizations. Doing nothing in the face of clear public health data was not an option.
"A hearing on a temporary restraining order is scheduled for Monday," KMSP reports.
The case is Bright Red Group, LLC (d/b/a Smack Shack) v. City of Minneapolis, No. 27-CV-22-867, in District Court of Hennepin County, Minnesota.