Essential vs Luxury: Which Tech is Important for Businesses and Which is Waste of Money?
Reading Time: 5 minutes
In 2022, investing in technology is a necessity for businesses of all types and sizes. You can't rely on manual, paper systems to run your business. Besides, there's no point in hiring a workforce and training them to conduct tasks that can be automated. 
This doesn't mean you should invest in every emerging technology without considering the ROI. For businesses with a limited budget, the tech you install on your premises should help streamline your business and boost revenue, but only if you choose the right technology.
To make the right choice, take a look at this list of the essential technology and the luxury items that you don't really need.
Essential Tech Investments for 2022
We've seen a lot of changes in the business and tech world in 2021. Businesses have started, evolved, and closed town in the past two years. The pandemic has transformed the way we do business. 
Here are a few tech trends that can streamline your business operations in 2022.
AI-powered Chatbots
Chatbots can manage 68.9% of your customer conversations from start to finish. These AI-powered bots can answer customer queries, suggest products and services to your prospects, and guide your visitors through your sales funnel. They have the power to communicate with your clients just like humans do. 
Although businesses have not replaced human customer support systems completely, most companies have started embracing these digital chatbots for more streamlined support services. Even customers prefer chatbots, as they respond quickly and resolve customers' issues efficiently. This makes it a good investment for businesses planning expansion in 2022.
Contactless Payments
Contactless payments no longer optional. Whether you run a small store or a large, multi-national company, you need contactless payments to ensure safe, quick, and error-free transactions. Gone are the days when stores accepted cash. Although small retailers still accept cash payments, most of them allow mobile payments or payments at the retail POS. 
Hybrid Working Models
The pandemic has encouraged businesses to allow remote working operations. In 2022, more and more companies will adopt hybrid working arrangements to modernize their workplace. Remote work doesn't only offer your employees a safe working environment, but studies have shown that people are more productive when they work from a comfortable location. 
The hybrid working model means some employees will work from the office, while others will work remotely. Businesses need to embrace technology that supports a hybrid working model, such as project management tools. 
Workplace Automation
Automation will free up your staff, giving them time to focus more on the important projects, instead of creating accounts, taking orders, or checking inventory. For example, a restaurant no longer needs people to take orders at each table. 
Instead, they can have self-service kiosks that enable customers to place their orders through the software. Similarly, payroll and HR management software can manage your workforce, distribute salaries, and record attendance automatically. Automation is essential for all types and sizes of businesses in today's hyper-competitive market.
Luxury: Tech Your Business Doesn't Need
There's so much hype these days around AI, machine learning, cryptocurrency, and tech systems. However, these may not work for every business. Here are some pieces of tech which are probably not necessary for your business.
Blockchain
Not every emerging technology that gets attention from tech leaders applies to every market. For a small grocery store, blockchain is probably a waste of money. Your customers will not pay you with Bitcoin and other cryptocurrencies. Blockchain is a useful technology and the best way to process large transactions safely. However, before you invest in it, how exactly it will work for your business? 
Legacy Systems
Continuing with the outdated systems or investing in cheap legacy systems so that your business doesn't fall behind is simply a waste of money. It's better to have no tech at all than feed your outdated legacy systems that don't contribute anything to your business. One thing the pandemic has taught us is the importance of digital transformation. With AI-powered tools, virtual reality, and augmented reality, now is the perfect time for businesses to say goodbye to legacy systems and embrace new technology.
Build New Software
Building a new software system from scratch is a waste of money for most businesses. It costs you thousands of dollars, which is a waste unless you have very specific needs that can't be met by exisiting solutions. Building a tech system or a website is pointless when you can invest in the ready-made solutions available for a cheaper price. You don't want to end up doing a lot of work and spending more than necessary on services that are available for a fraction of the cost.
Tech-savvy people know what advantages it can bring for a business when implemented correctly. They also know that some technology is not suitable for certain businesses, because it's outdated or simply not applicable to your industry.
Carol
Information sourced by the author for luxuryactivist.com. All content is copyrighted with no reproduction rights available. Images are for illustration purposes only.
A rare 555-carat black diamond that was formed around 2.6 billion years ago when an asteroid hit the earth could sell for $5 million.

Some diamonds can best be described as 'out of the world' and quite literally so! We're talking about and exquisite gem that owes its formation to an asteroid that hit the earth approximately 2.6 billion years ago. Yes, you read that right!




Christened 'Enigma,' the 555.55-carat black diamond is also ranked among the largest and toughest diamonds in the world. Describing it, Sotheby's jewelry specialist Sophie Stevens said, 'It is very different.


"The shape of the diamond is based on the Middle Eastern palm symbol of the Khamsa, which stands for strength and … protection," she further added while noting that Khamsa means five in Arabic, and hence there's a nice theme of the number five running throughout the diamond.


Commenting similarly, Nikita Binani, jewelry specialist and head of sale at Sotheby's London, noted, " 'The Enigma' is a marvel of rarity and size, and its brilliance and high polish are a testament to the delicate and highly skilled undertaking of diamond cutting,"
She further said, "Its sale represents a once-in-a-lifetime opportunity to acquire one of the rarest, billion-year-old cosmic wonders known to humankind." While it has never been in the public eye before, the Enigma was recently displayed at the Sotheby's Dubai gallery in Dubai for the first time.
The gem has been named the largest cut diamond in the world by the Guinness Book of World Records in 2006, which further solicits its worth. It will be auctioned in February at an estimated price ranging between $4.1 million and $6.8 million, with Sotheby's also accepting cryptocurrency for it.
Fancy buying this wonder jewel?
[Via: METRO]
Golden days in the White House! Tiffany Trump celebrates her one-year engagement anniversary by sharing never-before-seen photos of billionaire fiancé Michael Boulos proposing to her at the Rose Garden.

Trump-related news is not always serious business or its downfall; sometimes, Trump-related news can be romantic. Thanks to Donald Trump's youngest offspring Tiffany Trump who has been all about love, romance, engagement, and more, we get to see a more pleasing angle involving the Trump name. The stunning 28-year-old law graduate recently gave fans a dose of love amid depressing omicron surge news with a never-before-seen photo with her billionaire fiancé Michael Boulos. Michael Boulos, 23, heir to a billion-dollar fortune proposed to Tiffany with a gorgeous $1.2 million engagement ring in the White House Rose Garden last year. Tiffany shared this photo to mark their proposal anniversary.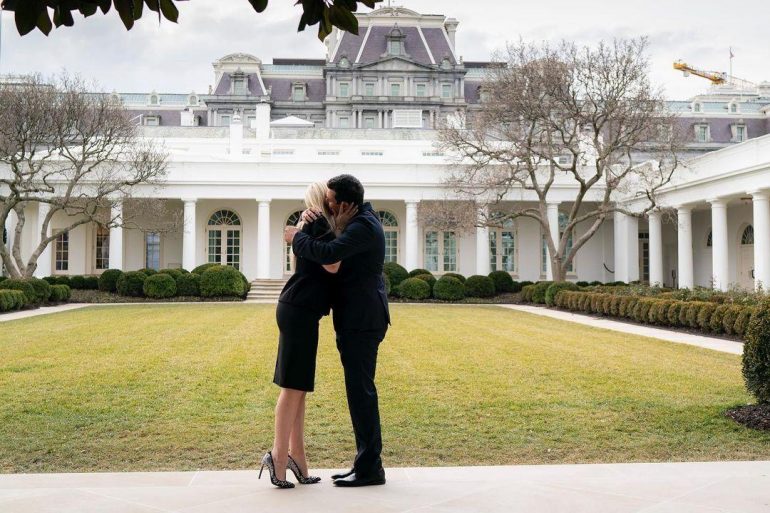 What better way to celebrate the one-year anniversary of the moment Michael popped the question than by posting a pair of snaps of the couple? In the two love-filled images shared, the first shows Michael getting down on one knee to pop the question to his long-time girlfriend, and the second marks their happy moment that seals the deal with a kiss of love. Tiffany Trump's post on Instagram has got close to 90,000 likes in a day (at the time of writing) and she sweetly captioned the images,' One year down forever to go.' Michael Boulos also showed some love on his social media by posting the same photo, writing, 'Happy anniversary to the love of my life!' The couple made their romance Instagram official when Tiffany posted a picture of the couple posing in front of a Christmas tree inside the White House's Red Room.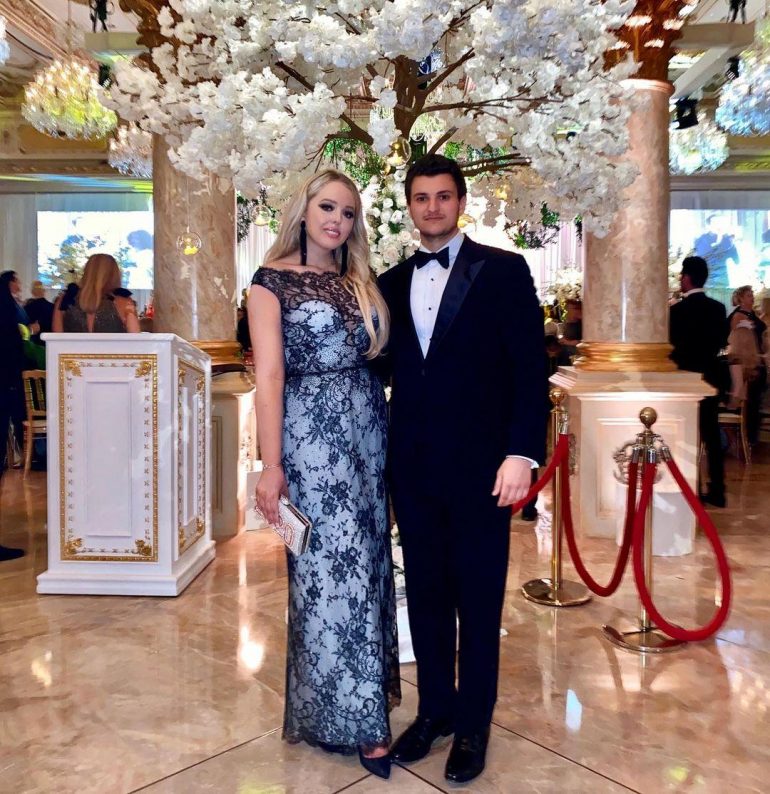 Tiffany's mother, Donald Trump's second wife, Marla Maples, also commented on her future son-in-law's post. She commented, 'You are so loved.' A year has passed since the engagement, and it is only a matter of time a glitzy Trump-Boulos wedding starts taking shape. The upcoming nuptials are expected to be no expense spared affair suggesting the youngest Trump kid and Boulos will have two big deal weddings. They both want to marry in a big ceremony, which will have all elements of your primary international spectacle. Many speculate the wedding will be held at Mar-a-Lago, owned by former President Trump, and would make for a lavish summertime wedding.
Nike SB Dunk High Pineapple Coming Soon
wwwkicksonfirecom-m24jxqnd.stackpathdns.com is using a security service for protection against online attacks. An action has triggered the service and blocked your request.
Please try again in a few minutes. If the issue persist, please contact the site owner for further assistance.
| Reference ID | IP Address | Date and Time |
| --- | --- | --- |
| 42e7ae6878cb5aa71f60191b47a58711 | 103.115.9.79 | 01/18/2022 10:39 AM UTC |