Earl Sweatshirt Will See You Now
He's back. Earl Sweatshirt, the one and only, returns with his fourth studio album 'Sick!'. In this FRONTPAGE interview, the musician opened up on his wildest project to date.
How the fuck does Earl Sweatshirt record music?
If you're listening to the current era he's in, I'm talking about Feet of Clay. He's stumbling, mumbling sweet poetry into the microphone — words drunkenly delivered, but lovingly pieced together. It's beautiful. But how the hell does he go into the booth to make that?
"It's like you're building a house, right?" he says as voices stream from all sides of our Zoom call. He's preparing for a photo shoot. People need things. And in the midst of a hectic day, he's taking time to string together a spaced-out definition of songwriting.
"So, if I'm building this house, I could put a human hand in the wall," he continues after a pause. "I can do whatever, because I'm structuring it. So, structuring it to where you can have these things that years down the line, people can still be having these eureka moments with it, it makes sense. But also, I try to keep it performative enough where it's not just this dense thing you have to set time aside to unpack."
Photo shoot or not, Earl's ready to chat. He thanks me for letting him "ramble" about his highly anticipated new album Sick!, which comes out on January 14. It's been two years since his last album, Feet of Clay, came out, so this one's big. On Reddit, there's an entire thread dedicated to fans excitedly speculating on the possibility of what surprises that Earl could have in store for the rollout of the project — so far, he's shared a couple of key billboards.
Wait a minute.
Earl doesn't like the word "rollout." He recoils when I mention it, and questions its authenticity. "Twenty years ago, music consumers were not using the word rollout," he says incredulously. "Why the fuck do y'all know what a rollout is? It's been really weird seeing that discourse around that this year that's happening in public."
The 27-year-old rapper has spent the better part of ten years providing rap fans with a new way to look at music. Born Thebe Neruda Kgositsile, to a law professor at UCLA and South African poet and activist Keorapetse Kgositsile, Earl was infamously introduced to the world through Odd Future, the collective spearheaded by Tyler, the Creator that carried Earl around like its mascot. A mixtape (Earl) later, and several ridiculously twisted bars that would get him canceled so hard he'd be erased from existence, his mom sent him to Samoa like the Fresh Prince of Bel-Air — hoping to keep him out of trouble and teach him some upstanding citizen values.
It didn't matter that he was gone. His music established a mythos for him. This kid could spit. Precious platitudes of Eminem-like tongue twisters, each one more vile than the last, made him a rap god in certain circles; if Tyler was the face of Odd Future, Earl was the cult leader. While in Samoa, he started making beats on a keyboard, spurred out of boredom, and later, upon his return, he'd begin producing under the moniker randomblackdude.
After about two years in his metaphysical brig, Earl returned to the fold, no longer the martyr obsessed with malevolence. And since then, gradually through a stretch of albums from 2013's Doris to 2019's Feet of Clay, Earl not only evolved out of his oldest self's destructive tendencies — but has also become a tantalizing fetishist of the moment, digging through his thoughts and feelings as well as providing some unique commentary on the state of a world spinning rapidly out of control — or as he revealed in a statement for Feet of Clay, this "crumbling empire."
Earl may have come into the game as a shock artist, but he's unraveled at the seams to the point where he prides himself on the simplest, most authentic things that impact him directly — emotions. He used to be focused on the ghastly. But overtime, he's mellowed out and become a casual observer and diarist of the moment and how it impacts his own personal world. From the subject of grief due to the death of his grandmother on Doris ("Burgundy"), to the fragmented memory that's "leaking blood" on Feet of Clay ("OD") — his music has grown to circle around clarity in his feelings and create abstract musings on the world as he experiences it. His beats have grown progressively darker. His raps, slowed down to the point of casual convo. His emotions, which used to take a backseat, are out on full display.
That evolution has been thrown for a loop on Earl's new album Sick! — a body of work originally inspired by a book of African American folktales called The People Could Fly that his mother would read to him. "It served as a good container and template for an album, because it was a collection of stories," he says. "It seemed easy to fulfill that because it left enough room for me to go wherever I needed to go. A lot of the stories stuck with me to use as archetypes to build the album around."
But eventually, Earl would shed the idea. In an official press release announcing the album, he detailed the change. "Once the lockdowns hit, people couldn't fly anymore," he said. "A wise man said art imitates life. People were sick. The people were angry and isolated and relentless. I leaned into the chaos because it was apparent that it wasn't going anywhere. These songs are what happened when I would come up for air."
Sick! doesn't sound like anything in Earl's palette so far – either as a rapper or a producer. There's still the sluggish, melting beats that he oozes over, but there's also more polished, toe-curling, sci-fi adjacent sounds that sound more expensive than ever. Take "2010" for instance — the beat for which he says he sat on for a year before even trying to write to it — and its lush sound. Earl says that the song, and the sound of the album, drew inspiration from a really shitty YouTube song.
"I was watching a video of this really terrible song and there were only four comments on it — one of them being, 'Nice song. Would be better if it was a car banger,'" says Earl. "That's when I was like, 'Shit, if it was a car banger, it wouldn't be any better.' But it was a window into a mind of today that's like, you have to make shit thump. Because niggas are going to listen to it. Point blank, period."
"Making it thump" defines the essence of the album, down to its bare bones. "This one's like getting into the car with me and giving me the aux," he says. "It goes to all the places that I would put on my playlist."
But what does that mean exactly? Earl won't specify other than one ingredient: drums. "On a music theory, human spirituality level, drums are really important," he says. "You watch people talk about music, they'll talk to you about it. Drums talk. They make people do stuff. They make people listen."
One of the first songs to make it on Sick! is "Tabula Rasa," named for the blank slate state of mind. Originally a song for The People Could Fly, Earl loves it – not necessarily for his verse on it, but for the guest appearances from rap group Armand Hammer (composed of rappers Billy Woods and Elucid). "There's this confessional style that the guys do so well," he says. "When Billy raps, you really feel that he brings forth this imagery that's not flattened on his own self."
Earl then zones out to detail his favorite aspect of Woods' verse. "He said, 'I made chicken late at night in my boxers burning up the kitchen. She passed out right when I was done fixing,'" he remarks before continuing. "This situation isn't necessarily flattering, but his writing, his observation of it, makes it sound super poetic and beautiful."
From there, Earl transitions into a stream of consciousness about writing music in general. I tune in because I can smell a Krabby Patty secret formula when there's a burger in front of me. "The best writing for me is when I hear where there's magnificent structure and order, but it feels as fun and exciting as a freestyle," he says. "Songs can take forever for me to record – ask anybody that sends me beats. I don't even want to listen to it after I hear it because I don't want to over-play it. I don't want to over-waste any ideas."
"Then, when I do start recording, I'm really, really locked in," he continues, sounding locked in. "I'm in like, Rain Man-mode. No one talk to me, I'm not listening, I'm not answering the phone. The whole process of writing, recording, and listening to it back 58 times could take me anywhere from four to eight hours."
Note to self: don't bother Earl while he's recording — he'll ignore you. That aligns with the
discovery about himself he made in the midst of making this album, one that probably should have been apparent back in 2015 when he released the album I Don't Like Shit. I Don't Go Outside.. "I like to scoff at the notion of me being antisocial, just because I can be a bit of an antagonist, and I don't want to be able to be defined by anyone. But when I study my movements, I definitely waited til everyone went inside to go outside," he muses.
But even though he spent a ton of time indoors, he's been seeing how the effects of the pandemic have changed his interactions with fans. "Covid has improved my relationship with the kids," he says, in reference to his younger fans. "I feel way more love. I mean, it was a process. It was happening before Covid, but I think the lack of interaction with the public, and now coming back out, and having shows and shit. I ain't going to lie, kids have come back."
"I'm feeling a lot of the love, and I'm saying I have to get accustomed to it, because sometimes I still move from a place with darkness," he continues. We again talk about Reddit. I point to this master thread of fans speculating on the rollout to Sick! and what comes next. Earl listens, pauses, and then says "Wow" before another pause. "I love it." He may be one of rap's biggest artists, but he's still reckoning with the fact that people appreciate his music for its value and not its shock value. It's a new day.
If there's one message in Sick!, it's "be thoughtful and mindful of one another," says Earl in the spirit of a traveling prophet. He's got some pre-release jitters that he's working on, comparing them to "pre-stage butterflies" that he says is normal whenever you present anything to a group of people, but more than anything, he's ready for fans to tell him what they think it means.
"I made it for myself obviously, in my own spirit and my own need to express, but I also made it for the folks," he says. "I feel like there's a lot of different messages in there. I'm excited to hear what people glean from it. I've been with this shit for too long. I'm ready to let this shit go."
Earl Sweatshirt's 'Sick!' is out on January 14.
A rare 555-carat black diamond that was formed around 2.6 billion years ago when an asteroid hit the earth could sell for $5 million.

Some diamonds can best be described as 'out of the world' and quite literally so! We're talking about and exquisite gem that owes its formation to an asteroid that hit the earth approximately 2.6 billion years ago. Yes, you read that right!




Christened 'Enigma,' the 555.55-carat black diamond is also ranked among the largest and toughest diamonds in the world. Describing it, Sotheby's jewelry specialist Sophie Stevens said, 'It is very different.


"The shape of the diamond is based on the Middle Eastern palm symbol of the Khamsa, which stands for strength and … protection," she further added while noting that Khamsa means five in Arabic, and hence there's a nice theme of the number five running throughout the diamond.


Commenting similarly, Nikita Binani, jewelry specialist and head of sale at Sotheby's London, noted, " 'The Enigma' is a marvel of rarity and size, and its brilliance and high polish are a testament to the delicate and highly skilled undertaking of diamond cutting,"
She further said, "Its sale represents a once-in-a-lifetime opportunity to acquire one of the rarest, billion-year-old cosmic wonders known to humankind." While it has never been in the public eye before, the Enigma was recently displayed at the Sotheby's Dubai gallery in Dubai for the first time.
The gem has been named the largest cut diamond in the world by the Guinness Book of World Records in 2006, which further solicits its worth. It will be auctioned in February at an estimated price ranging between $4.1 million and $6.8 million, with Sotheby's also accepting cryptocurrency for it.
Fancy buying this wonder jewel?
[Via: METRO]
Golden days in the White House! Tiffany Trump celebrates her one-year engagement anniversary by sharing never-before-seen photos of billionaire fiancé Michael Boulos proposing to her at the Rose Garden.

Trump-related news is not always serious business or its downfall; sometimes, Trump-related news can be romantic. Thanks to Donald Trump's youngest offspring Tiffany Trump who has been all about love, romance, engagement, and more, we get to see a more pleasing angle involving the Trump name. The stunning 28-year-old law graduate recently gave fans a dose of love amid depressing omicron surge news with a never-before-seen photo with her billionaire fiancé Michael Boulos. Michael Boulos, 23, heir to a billion-dollar fortune proposed to Tiffany with a gorgeous $1.2 million engagement ring in the White House Rose Garden last year. Tiffany shared this photo to mark their proposal anniversary.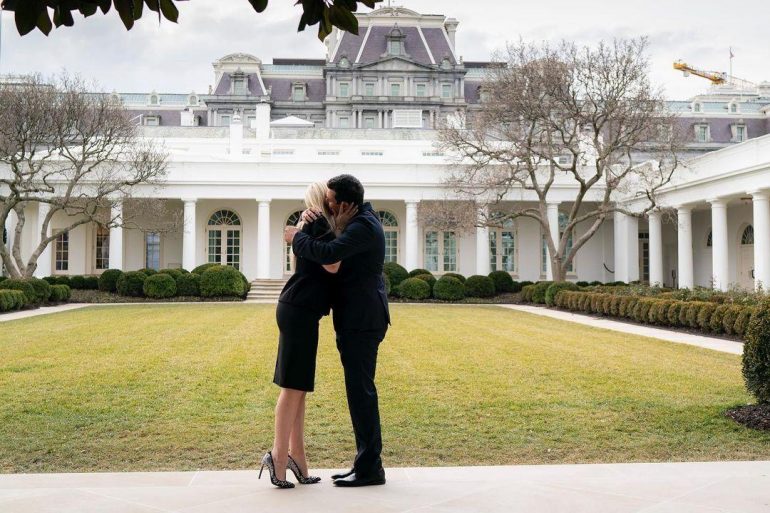 What better way to celebrate the one-year anniversary of the moment Michael popped the question than by posting a pair of snaps of the couple? In the two love-filled images shared, the first shows Michael getting down on one knee to pop the question to his long-time girlfriend, and the second marks their happy moment that seals the deal with a kiss of love. Tiffany Trump's post on Instagram has got close to 90,000 likes in a day (at the time of writing) and she sweetly captioned the images,' One year down forever to go.' Michael Boulos also showed some love on his social media by posting the same photo, writing, 'Happy anniversary to the love of my life!' The couple made their romance Instagram official when Tiffany posted a picture of the couple posing in front of a Christmas tree inside the White House's Red Room.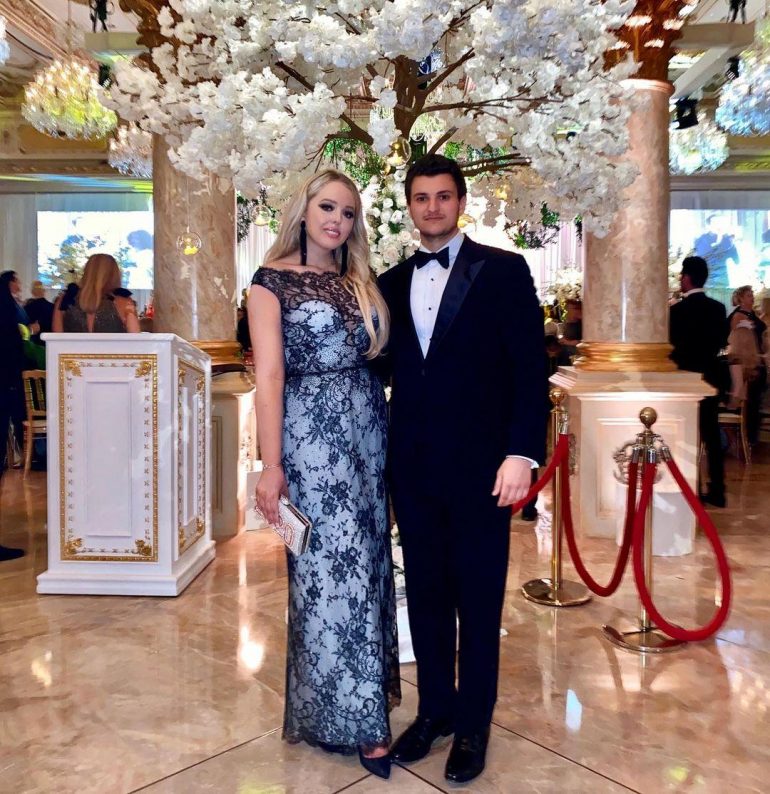 Tiffany's mother, Donald Trump's second wife, Marla Maples, also commented on her future son-in-law's post. She commented, 'You are so loved.' A year has passed since the engagement, and it is only a matter of time a glitzy Trump-Boulos wedding starts taking shape. The upcoming nuptials are expected to be no expense spared affair suggesting the youngest Trump kid and Boulos will have two big deal weddings. They both want to marry in a big ceremony, which will have all elements of your primary international spectacle. Many speculate the wedding will be held at Mar-a-Lago, owned by former President Trump, and would make for a lavish summertime wedding.
Nike SB Dunk High Pineapple Coming Soon
wwwkicksonfirecom-m24jxqnd.stackpathdns.com is using a security service for protection against online attacks. An action has triggered the service and blocked your request.
Please try again in a few minutes. If the issue persist, please contact the site owner for further assistance.
| Reference ID | IP Address | Date and Time |
| --- | --- | --- |
| 42e7ae6878cb5aa71f60191b47a58711 | 103.115.9.79 | 01/18/2022 10:39 AM UTC |